Well Street from Hales Street
Before you click on the image to reveal the 2003 version, can anyone place this scene? The Old Grammar School is recognisable on the right, which means that the Burges must be on our left and Bishop Street behind the school to the right.
Looking closely at the centre of the original photo tells us that 'Lynes Stores' outdoor shop was already established by 1930, so the road we're looking towards is Well Street.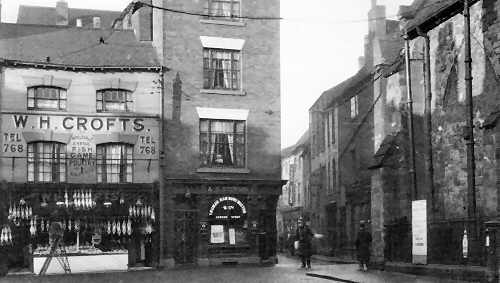 Alright, we know what's missing now, don't we? Yes, about a year after this photograph was taken, the two shops in front of us (plus others, out of shot), which were then part of the Burges, were demolished to make way for the building of Corporation Street in 1931.
Until the 1990s Lynes Stores was still trading in Well Street, selling camping and outdoor equipment and clothing. Have you noticed that a small "front door" has since been built into the Grammar School?

If you wish, you can see another lovely pair of "now and then" photos showing this street from a different angle on my son Steven's website. Try this page.