Precinct & Old Coventry aerial view
As you may have already noticed, hovering the mouse cursor over the photograph below will substitute a view of 1930 Coventry with a modern day photo of the precinct area taken from the same place - the tower of St. Michael's. I have managed to match the scale of the two images so that they perfectly overlay.
You might note two of the only recognisable features common to both views - the tower of St. John's church just to the right of centre, near the top edge of the photo..... and the distant spire of St. Osburg's church in the top right corner. (Both show more vividly in the older black and white picture.) Quickly alternating the two views will clearly show the relative positions of the buildings.
With the exception of the two above mentioned buildings, there appears to be nothing left of pre-war Coventry centre on the west side of Broadgate which before 1940 was simply a wide road but now is recognised as an enlarged rectangular area encompassing the Cathedral Lanes shopping centre.
In the 1930 shot, the line of Smithford Street can just be made out running from half way up the left side of the photo towards St. John's church. Symmetrically to this on the right hand side of the photo can be seen the line of buildings forming West Orchard which until WW2 was of course, a street. Now it is represented by another shopping complex constructed in the late 1980s.
In the top left corner, the huge factory dominating the view in 1930 was the Rudge Motorcycle works. After the war, GEC became the new owners but despite the factory becoming a listed building on account of it being the first steel framed construction of its size in the country, it was demolished in the early 1990s to make way for the SkyDome which can be seen in the modern view.
Just to the right of the picture's centre is the 100 foot tall Market Clock Tower with Market Place leading up to it. Remarkably, the tower survived the wartime blitz but was left neglected and later demolished - the excuse being that it didn't fit in with the "modern" plans for the pedestrianised precinct. The famously accurate clock movement in the tower was saved however and is now installed in the Godiva Clock in Broadgate.
To see a stage-by-stage view of how the original town centre changed from pre-war - to post-blitz ruin - to new precinct and Broadgate - to 21st century, select a year below: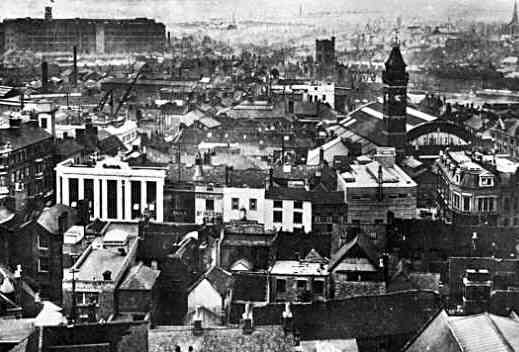 Colin Barnes has kindly sent me a lovely view of Broadgate Garden Island from around 1982. To see this photo and indulge in a spot of nostalgia, try this Broadgate Special page.