Bishop Street, looking south
How about this then.... a beautiful view of Bishop Street looking southwards towards our two largest spires some time around the 1930s. Without the modern day clutter, even the clerestory windows above the nave of Holy Trinity Church can be clearly seen, just above the roof of the Old Grammar School.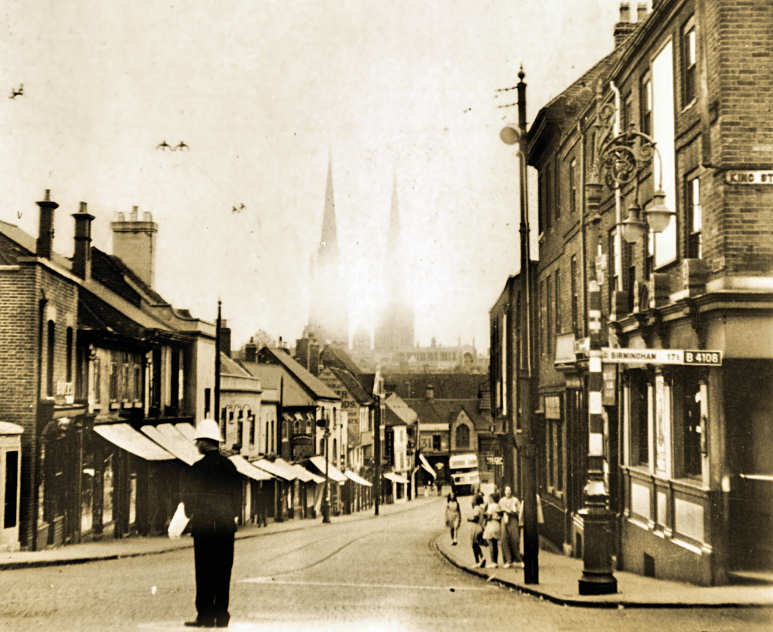 The faint hearted and those of a nervous disposition should be careful before clicking on the photograph.... coming forward about 70 years in time does not yield a pretty sight!
Of course, it's now not feasible to stand in the exact same spot as the pre-war photographer at the junction of King Street. In order to do so I would have had to stand on the Ring Road, which by the early 1960s had swallowed up this crossroads of Leicester Street, King Street and Bishop Street. With the name "New Rents", King Street had been part of Coventry's history since at least 1610 - whilst Leicester Street, once known as Dogge Lane, had formed this junction with Bishop Street since at least the 13th century.
If you'd like to indulge in some nostalgic memories of Bishop Street in the 1930s, try Norman Cohen's memories page.