St. John's Church, Fleet Street
This church hasn't changed significantly of course, for centuries, but it's seen many an alteration to the surrounding landscape during the 20th century.
The nearest building directly to the photographer's right hand side, in the 1913 postcard, is the Victorian City Arms, and this stood on the corner of Fleet Street and West Orchard (just out of view) until 1958 when this final short stretch of Fleet Street and the western end of Smithford Street closed, to allow completion of the lower half of the precinct. Many of the shops on the right beyond this pub had already demolished long before this, ready for the building of Corporation Street in 1931.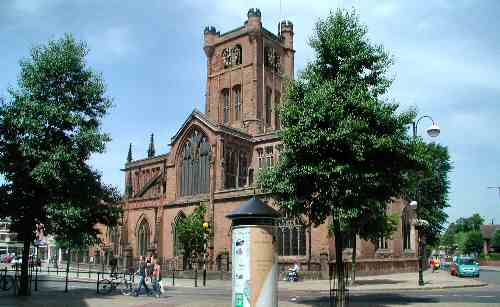 To the left is Fleet Street, changing into Spon Street and heading off towards Spon End. As we look to the right hand side of the church, Hill Street is now visible. More details about the church are on the Historic Tour page or find out why this church was linked to the old phrase "Sent to Coventry".