Bishop Street Post Office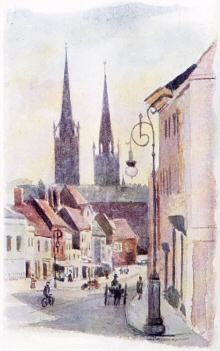 Looking back down Bishop Street in 1957 (below), it's just possible to imagine how the pre-war, undamaged view down a narrow curvy street, drawing your attention toward the two largest spires, presented numerous artists with a wonderful opportunity to paint or sketch a scene of a city still retaining its medieval roots.
The artists impression on the right from the early 1900s shows one such view.
The owners of the tiny Bishop Street Post Office back then must have stared in disbelief at the huge replacement student accommodation tower block and Tesco Express that was to dominate the street and skyline in later years.
One thing, at least, has improved in recent years, however, and that is the view of the spires. The vista of clean silhouetted outlines was, until 2020, ruined by the council office tower block in Much Park Street, next to the Crown Court, lurking in the background. The removal of that block has clarified our spire view once more.

This next view shows the same Post Office from the south. The truck in the 1957 scene looks like it could be struggling a bit!