Swanswell Pool
A quick comparison of these two images shows relatively little change over a century. In the first photo, taken around 1900, the original Coventry and Warwickshire hospital, built 1864/65, can be seen in the background.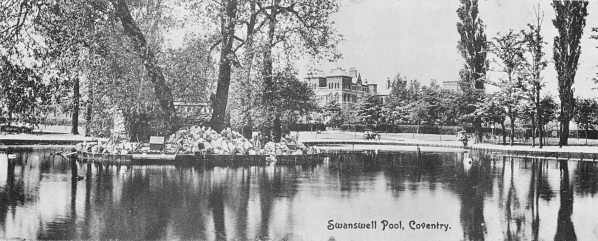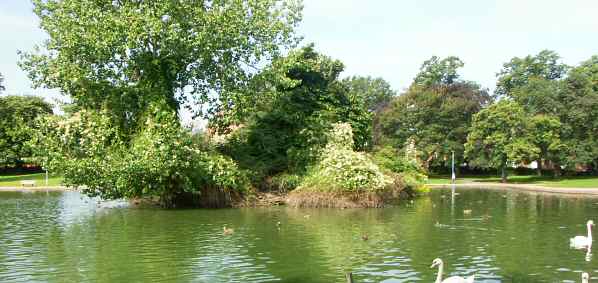 Rebuilt after extensive bomb damage in WW2, the newer buildings are no longer visible through the matured trees that surround this pleasant park area which is only a minute's walk from Swanswell gate.
From the same vantage point, swinging the camera around to the left shows the three spires of Coventry not far away. (Christ Church spire is only just visible to the right of Trinity spire near the centre.)
Long before a settlement was formed here, a large lake, known as Babba Lacu filled the valley from near Hill Street, around the Corporation Street area and down to Pool Meadow; roughly the route that the River Sherbourne follows. The word "Bablake" appears to have been derived from this lake's name.
After centuries of drying up, Coventry was eventually left with two pools. Until the 1840s, the area we now know as Pool Meadow was still under water and was referred to as Mill Dam. In earlier times it had been known as St. Osburg's Pool. At that time, however, the river was culverted and the pool drained for building upon - this left Swanswell Pool as our only survivor of the early lake.
Previously much larger, urban development has eaten into the size of the pool.