Stoke Green & Pool
The pool
Moving a little farther out of town again, we find a feature that is long gone, but still has pleasant surroundings. The photo shows an old pool next to the Binley Road - one which had a practical purpose. In days gone by, when the old wooden, spoked wagon wheels began to dry out, the steel rim, or 'tyre', would soon begin to loosen. Therefore, the driver would steer his cart off the road, and through one of these conveniently placed pools, where the wheel could soak up some water, swell up, and thus tightening itself into the rim.
This image, from around the time of the First World War, clearly shows the tracks of carts that have taken this route.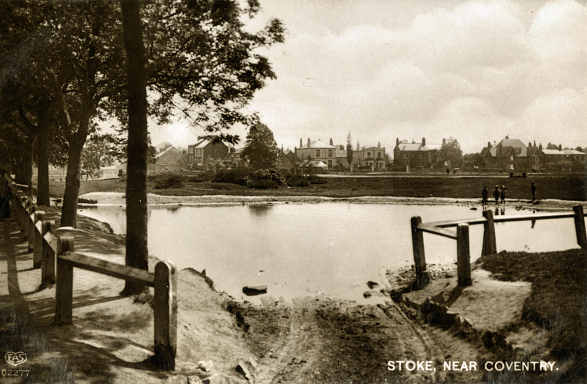 Click the image to swap between this and the same scene in 2008.
By the 1930s this old pool had been turned into a recreation area, although still featuring water, and for around five decades was a concrete lined paddling pool. It was still in use in this way in the 1970s, when I occasionally played there, but during the 1980s it was filled in and now looks as it does in the photograph if you click on it to bring the picture up to date.
Stoke Green and National School
The houses just visible on the left of the above photo are the ones on view in this next scene from Stoke Green.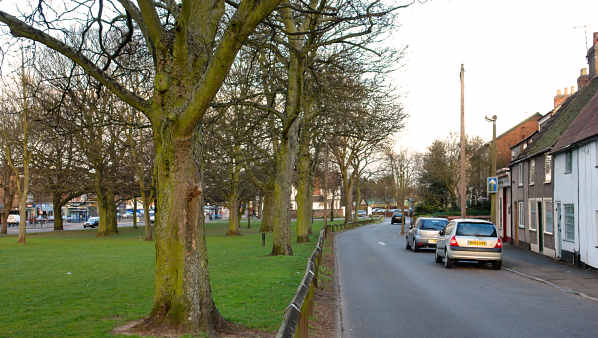 Click the image to swap between this and the same scene back in 1962.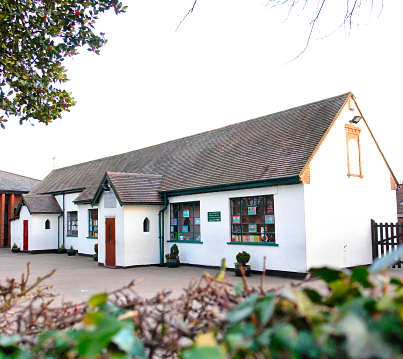 With the exception of the cars, very little has altered in the 46 years between the taking of the two photographs above. The cottages on the right look very similar, and the trees remain, although have obviously matured.
Empress buildings are just visible through the trees, too.
From the position which the photo was taken, a turn to the right will reveal the tiny Stoke National School. Established in 1833, this building dates from 1840, and is therefore one of Coventry's oldest school buildings still in existence.