Fleet Street
Once again, here's a another glimpse of Edwardian Coventry - this time taken from Spon Street looking into Fleet Street. I would guess that most of the people in the photograph didn't "just happen" to be passing! More likely, they had gathered in the hope of 'starring' in a photograph - still a special occurrance in those days. Just out of picture on the left is St. John's Church. In the background, two of our spires can be seen in both views, although they are rather faded in the old postard, and mostly obscured by modern buildings in 2006.
The modern day scene can be viewed by clicking on the image.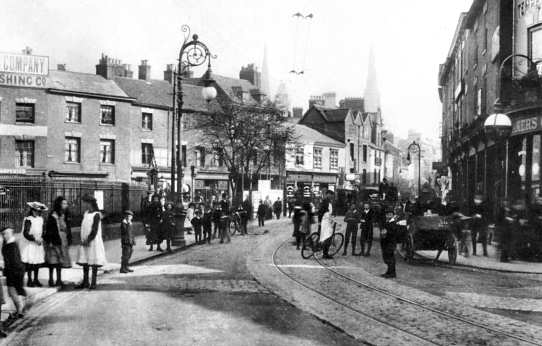 To fade back to the preferable 1910 view, click again on the picture.
Most of the shops on the left were to disappear for the 1931 building of Corporation Street. Some of the others survived the wartime bombing, only to be demolished in the late 1950s as the building of the Lower Precinct progressed in this direction.