St. John's Church, Fleet Street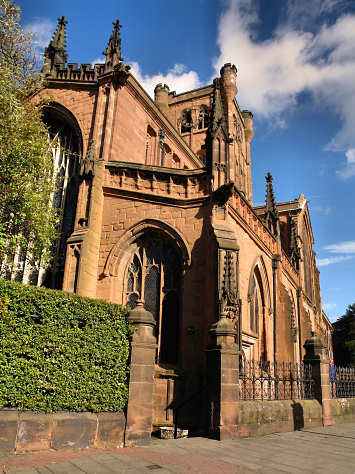 tanding proudly between Fleet Street and Hill Street is the church of St. John, also known in times past as Bablake church. Above and to the right are two views of the church; from across Corporation Street on a sunny Spring morning and from Fleet Street on a summer afternoon. Did the surroundings appear any different in 1910? Click here to find out in the "Now and Then" section.
Founded in May 1344 by Queen Isabella, it was consecrated in 1350 and subsequently enlarged over the next century or so to the completed structure with which we're familiar today. During the 16th century when the monasteries were dissolved by King Henry VIII, the Guilds were also suppressed and that deprived St. John's church of its prime function. With only irregular use for worship over the following century, the most (in)famous function of the church was its time spent being used as a prison for the captured Royalist soldiers in 1648 during the English civil war - an action often associated with the expression "Sent to Coventry".... but is that the truth?
With the area around Spon Street becoming more populated due to the success of Coventry's watch making industry, an Act in 1734 finally restored St. John's as a parish church in its own right. As can be seen from the two photographs below the last two to three centuries have seen a very pleasant looking interior restored to the church after its rather chequered past. George Gilbert Scott was responsible for two of the restorations made in the late 1850s and mid 1870s.

This last photograph was taken around the late 1870s, showing a fountain standing outside the church. An 1859 magazine article about the construction of this fountain is available in the Historic Articles section. The restoration that St. John's was undergoing at that time is quite apparent in this photo, with the still untouched western end of the church showing just how dilapidated it had become.