Old Grammar School, Hales Street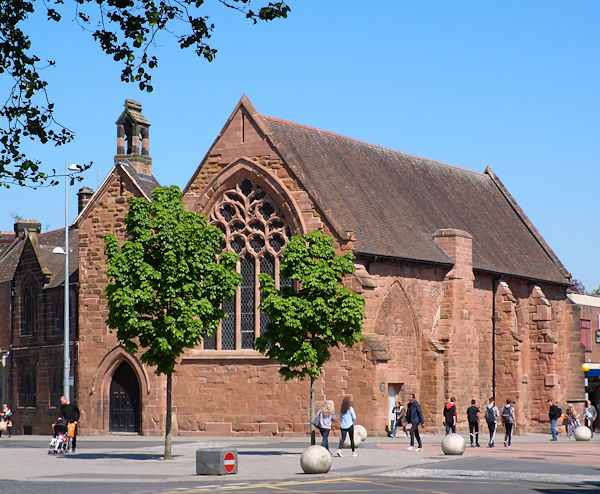 f you begin your visit to Coventry at Pool Meadow Bus Station, then walking westwards along Hales Street past Swanswell Gate towards Corporation Street, the first ancient building that you will see is on the right, at the corner of Hales Street and Bishop Street. Most people in Coventry recognise that it was once home to the Free Grammar School, a function served by this place from 1557 after the school moved here from its brief beginnings in the church of the then recently dissolved Whitefriars' monastery in 1545. The school remained here in Hales Street until 1885, when it moved to its own dedicated premises in Warwick Road. (Pictured in an early 20th century postcard, below.)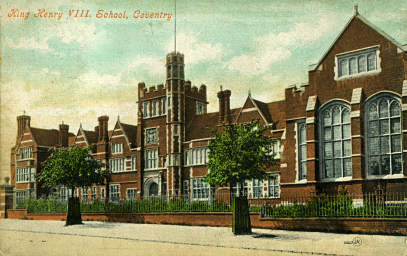 Before this time however, it had been founded in the 1100s as the Church of the Hospital of St. John. The building was originally much larger and extended out to the right in this photograph. (See the Old Grammar School engraving.) However, in the early 1800s that part of the old school was demolished to create a path for the building of Hales Street.
Would the above view of the Grammar School have been possible before 1931? Take a look at this page in the Now and Then section to find out!
It is from two structures associated with this ancient institution that a modern street name was to evolve. The north end of Cross Cheaping crosses two rivers: - the Sherbourne and its tributary, the Radford Brook. (Refer to street maps of 1225 to 1807.) The bridges were known as 'St. John's Bridges', and the street became known as "Between the Bridges" (inter pontes) or "Between St. John's Bridges" (inter pontes Sancti Johannis). We can perhaps learn something about our local dialect and the way our language evolves, by realising that the "bridges" part eventually corrupted and became "Burges".
The sad looking boarded up window on the left was photographed in 2005. However, as I write this in 2012 there is some optimism in the air after the Transport Museum has secured the funding necessary to have this fine building restored and put to good use as an extension of their excellent museum just down the road in Hales Street.
The three images below show various elements of the ancient stalls inside the Old Grammar School, including the finely carved arm-rests and even the grafitti carried out by the "young hooligans" of bygone centuries! It is supposed that these stalls were brought to the then newly formed school from the church of Whitefriars', where the school was initially founded.