Lychgate Cottages & Priory Row
djacent to the entrance to Trinity church can be found these three 15th century cottages. Originally one building named "Lychgate House" they have long since been split into three separate dwellings forming numbers 3, 4 & 5 Priory Row.
---
The word Lych is old English and means corpse, hence a Lychgate being the entrance by which a funeral procession would enter a churchyard and under which the coffin would be rested awaiting the vicar's arrival.
---
The timber used for these buildings has been accurately tree-ring dated to around 1414-15. Although oak can only be easily worked while it is still green, these cottages were not, in fact, constructed soon after the trees were felled. David McGrory informs us that they were built around 1648 by Rev. Bryan of Holy Trinity - possibly using reclaimed timbers that were stored near the church. He reminds us of other important facts too.... in 1414, the ground level at that point in front of the priory was many feet lower than the cottages now stand. They also contain 17th century cellars, not the typical vaulted ones of medieval times.
The timber used may have been from houses taken down a few years earlier, prior to the Civil War. In streets such as Spon Street and Gosford Street, houses close up to the City Wall would have presented a defensive weakness - a place for attacking armies to take cover - so these buildings were removed in times of conflict.
If I'd wanted to take this photograph before 1935, I would have had to stand further forward because I'd have been inside a property in Butcher Row. To see how this scene looked in 1910, please take a look at the "Now and Then" section.
At this stage of the tour, you may like to visit the ruins of St. Mary's Priory and Cathedral.
Georgian House, No. 11 Priory Row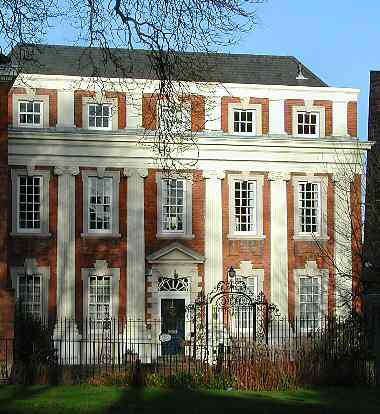 Farther up Priory Row towards the New Coventry Cathedral you can see this Georgian house behind an elaborate set of iron railings.
The front of this fine house is now sadly the only original part remaining of the 18th century building after a direct hit during World War Two, however, the rest of the house has been restored sympathetically. It was first built between 1727 and 1760; the reign of George II, and at the start of the 1939 to 1945 war it was used as the headquarters of the Coventry Women's Voluntary Service.