St. Michael's ruins
As we're in the area, I couldn't resist revisiting our favourite old buildling again for a triple photo helping! It's sobering to think that in the hands of a less sympathetic architect, all this could have been lost forever.... the committee for the rebuilding of Coventry Cathedral only stipulated that the tower, its spire and perhaps the south porch be kept.
Very fortunately for us all, Basil Spence (later Sir) had a 'vision' on his first ever visit to the ruins. Like the Provost during the war, he saw a beauty in the surviving burnt out shell, and knew instantly that he could never destroy what remained. As he stood there, looking through the north windows towards the ground being reserved for any possible future building, he envisaged an altar with a great picture of Christ behind it - seen through the bodies of saints. These of course turned out to be the huge tapestry seen through the Great West Screen of Saints and Angels. To use his words; "....the new Cathedral should grow from the old and be incomplete without it."
Thank goodness that his design was chosen! Credit's also due to the panel of judges of course who had the foresight to make the right decision. Here is one view that we lost on that night of November 14th 1940: -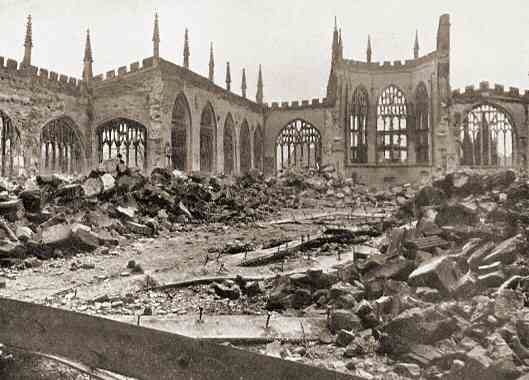 It can be seen from a quick study of the last two images, that since renovation, the battlements have been removed from the north (left) side of the ruined walls. Unless I learn otherwise, I can only presume that it might have been for safety reasons. The centre photo was taken within days of the November 1940 air-raid; a narrow path having been temporarily cleared of debris. It wasn't until 1947 that the rubble was totaly cleared away and lawns laid out to form a garden of remembrance.
One of the many suggestions before the blitz regarding the saving of the cathedral, was that a one foot depth of soil should be placed upon the cathedral roof. This might have provided enough cushioning to prevent the incendiary devices - which were only three inches wide and eighteen long - from puncturing the lead covered wooden roof. What actually caused the fatal damage, was that after punching their way through the outer waterproof shell, most of the incendiary bombs then rested in the eighteen inch gap on top of the wooden vaulted ceiling below, where they were out of reach and almost impossible for the fire fighters to tackle.
Experts advised that the weight of soil might be damaging to the structure, but afterwards Provost R. T. Howard admitted his regret that it hadn't at least been tried. Easy with hindsight, but strange to think that the above 1910 view of that grand building might still have existed.... and we'd have never seen a New Cathedral in Coventry!