Trinity Lane from Priory Row
As a photographic image, this beautiful postcard view of Trinity Lane in the early 1900s is an extremely rare sight indeed.
Both the original photographer and myself had our backs to the Lychgate cottages for this scene, and it is the exact opposite view to that seen in the pair of photos of Trinity Lane on this page. Out of sight to the left of each picture are the grounds in front of Holy Trinity church, the wall of which can just be seen - shortened in later years.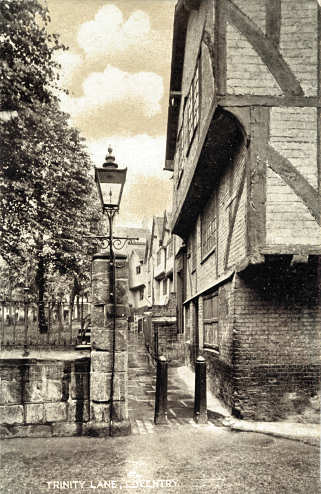 Nowadays we are facing towards the apartments in the side of the Cathedral Lanes shopping mall. However, before the demolition of the old timbered buildings in 1935 ready for the building of Trinity Street, the road plan had not significantly changed since medieval times. In the early 1900 photo, the row of shops across the far end of the lane were known as 'Spicerstoke', due to the wares they sold. Turning right at that point would have brought you out to the Coventry Cross at the junction of Broadgate and Cross Cheaping.