Palace Yard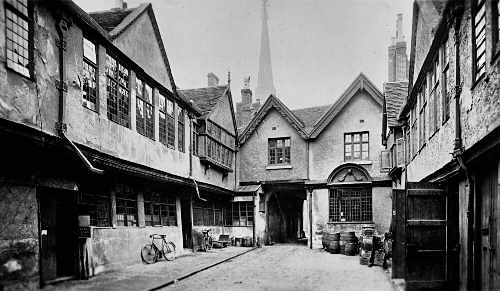 The "Palace Yard" photographed around 1910.
The narrow entrance to the yard in the centre of the picture leads through to Earl Street, directly opposite where the eastern end of the Council House now stands.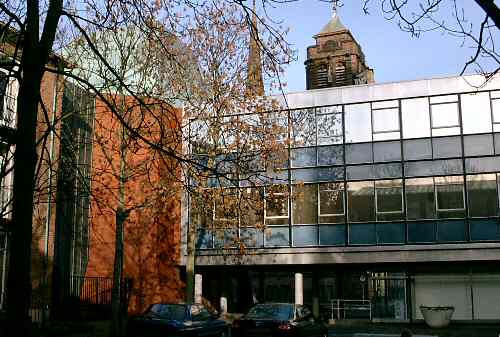 A view seen from the same place in 2004.
In addition to the spire of St. Michael's, the small tower of the Council House is now also visible against the skyline.
This photograph and the one below were taken by our six year-old son, Steven!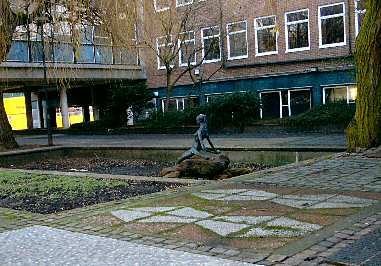 The modern day image doesn't quite hold the same magic as the old one, does it? The one saving grace that the square used to have was that a glance to your right would have revealed a redeeming feature in the form of a pleasant bronze statue named "Naiad" made by a Coventry sculptor and former teacher, George Wagstaffe. (Who was teaching art at Stoke Park School while I was there in the 1970s.)
However, the statue was neglected here and in July 2004 was restored and moved to a more deserving and prominent position in Lady Herbert's Garden.
Until it's complete destruction by a single high-explosive bomb during the 1940 blitz, the original Palace Yard had survived for around 400 to 600 years, and as the name suggests, has had Royal connections. One of the most significant events occurred in 1605 while the gunpowder plot was underway. Princess Elizabeth, whose father King James I had only been on the throne for two years, was living at Coombe Abbey, but when her life appeared to be under threat she was moved here for safe keeping. It was this event along with the visit and stay here of King James II in 1687 that led to the name "Palace Yard". Much more can be learnt about Palace Yard's Gunpowder Plot connection here.