Bishop Street, looking north
Clicking on the classic postcard view of Bishop Street of 1905 will bring to you an up-to-date scene from 2021. Like 'em or loathe 'em, the student accommodation blocks adorning the end of the street certainly add colour and height to our skyline!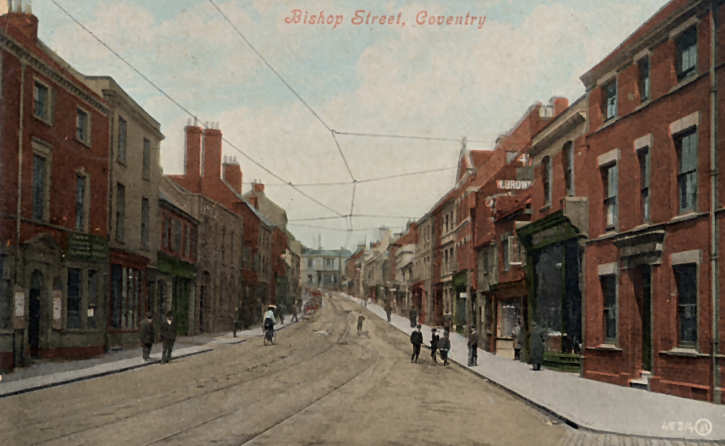 A century ago, however, it was a street with a little character. (Probably several, in fact!) Its steady incline also posed a bit if a challenge to the early electric trams of the day - I wonder how many tired legs had to complete the journey after alighting an even more tired tram that had failed to climb to the street's northern extremity?
The rows of two and three storey terraced houses were also testimony to just how residential the centre of Coventry once was. The 'blank canvas' rebuild of the post-war years virtually put an end to people populating Coventry's city centre. Only with the projects of recent years have we seen an attempt to get people dwelling in the town centre again.
The small area of cobbles to the right, at the bottom of the photo, is the entrance to Silver Street; and so if the 1905 photographer was to have turned to his right, (and travel back another hundred years) he would've been greeted with a view of the old Grammar School similar to this one.
More memories....
I was fortunate in 2009 to have been in touch with a man who lived in Bishop Street for several years before the Second World War broke out. Norman Cohen has furnished me with some details that he recalls about various premises in this street, which I will place here in case they help bring back your own memories of the street. You can also read Norman's entertaining account of pre-war life in Coventry on this 'memories' page.
And now here are Norman's recollections of some of the shops that filled Bishop Street....
Left hand side (working up from the bottom):
Not in the picture....
Welton's, Chemists (been there for ever).
Montgomery's, Butchers (been there for ever). My father invited Bill Montomery over for a drink to celebrate, the day I was born. My father was called to serve a customer, leaving him in the backroom of the shop where he polished off the whisky and was found, by his wife, sound asleep and somewhat worse for wear, several hours later.
Then, bottom left just off the photo.... Pickfords.
I can't remember all the shop names until just beyond where a lady is riding a bike...
Lancaster House, our shop, which sold carpets, furniture, linoleum - destroyed on 14th November 1940.
Barfords, an Ironmongers which also had a big stock of rifles and shot guns.
Mrs. Hayward, selling teas, sugar, butter, cigarettes and sandwiches.
Then a Pub.
Pargetters, Funeral Furnishers and Undertakers. What was special about them was their Black Rolls Royce Limousines and Hearses, PLUS huge, Black Belgian Horses to pull the horse-drawn hearses. They looked wonderful, decorated with black ostrich feathers. The premises were set on fire by incendiary bombs, like our shop, but the staff saved everything except for our van which we garaged there.
Right hand side (working up from the bottom):
No.51 where I was born
Lewin Brothers, leather wear. Saddles. Bridles etc. and repairs, suitcases and school bags.
Mr. Houston, Chemist from Scotland.
Pub (with Peeping Tom firmly wedged in an upstairs window!)
Forsyth Brothers, "Bespoke Tailors" Coventry's best.
A bit higher up was Tooby Atkins, again a leather retailer, with a wholesale business as well. The family lived in Spencer Road opposite King Henry Eighth School.
Lindons. All the family worked in the business selling fruit, vegetables and flowers, and lived above the shop.
Frederick Davies, Gentlemen's Outfitters. My Father bought all his suits etc. from him. They were great friends.
The Post Office. (See post-war images of it on this page.)
Friswell, Picture Framers. Thomas Edward Friswell was a pre-war Mayor of Coventry.
Mittons. Tobacconist. Sold cigarettes by weight, rarely by packets including Woodbines.
Further memories:
Bernard Ollerenshaw would like to add his own input to bring this old street to life once more.... "My grandad lived at No. 19 Bishop Street in 1913 before he got married to Ada Allen, who lived at Court 2, House 8, Bishop Street. They married at the Holy Trinity church on 25th December 1913. On the old photo of Bishop Street is No. 19."