Hippodrome, Old
Coventry's first "Hippodrome" was an old corrugated structure which had stood at Pool Meadow since 1884. The increasing demand for a better theatre brought about the building of this one in 1906; pictured here four years later.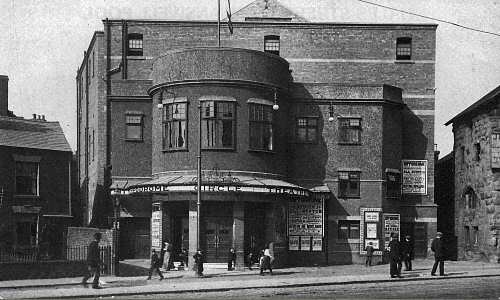 It was the success of this old Hippodrome that ironically brought about its demise, with the need for more seating. After only three decades, it was to be succeeded by the New Hippodrome which opened on the 1st November 1937 - the day after the old Hippodrome closed its doors for the final time. As the new one begun its life of entertainment, the old one ceased and was demolished by the following year to make way for another section of the scenic Lady Herbert's Garden. The old Hippodrome had been purchased by Sir Alfred Herbert in 1936 with this act in mind. The peaceful view today is one of 20th century Coventry's success stories.
To the left of the photograph can be seen part of the recently built Millennium Place and across the garden now spirals the new glass bridge.
Many thanks to Gerry Gibson for allowing me to display a photo of an original Hippodrome poster from 1927. It belonged to his grandfather, who was one of the "Walton Bros. & Harvey", as advertised on the poster on the right.
Also of interest might be A short history of Coventry's Theatres and Cinemas, by Bill Birch.