Where were these wartime photos taken?
(Partially solved)
embers of Graham Bridgeman's family have appeared in two wonderful wartime photos, and he would like some help to find out exactly when and where they were taken.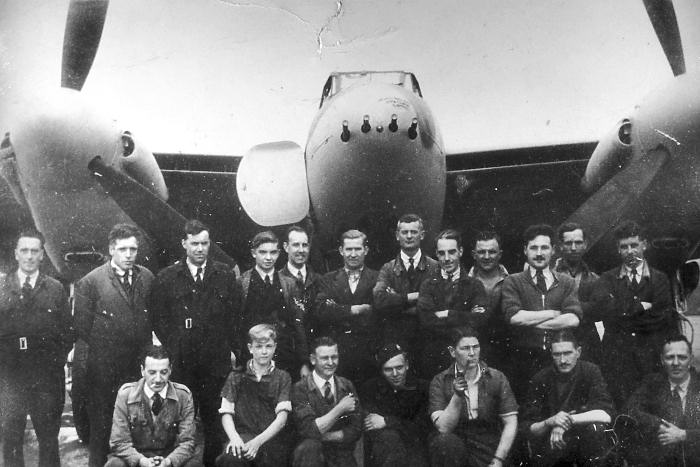 This first photo is a cracking one showing one of World War Two's favourite aircraft - the de Havilland Mosquito, which was mainly constructed of wood. Graham's granddad, Alf Hitchin (second from right, back row) stands proudly in front of it, alongside his many fellow workers.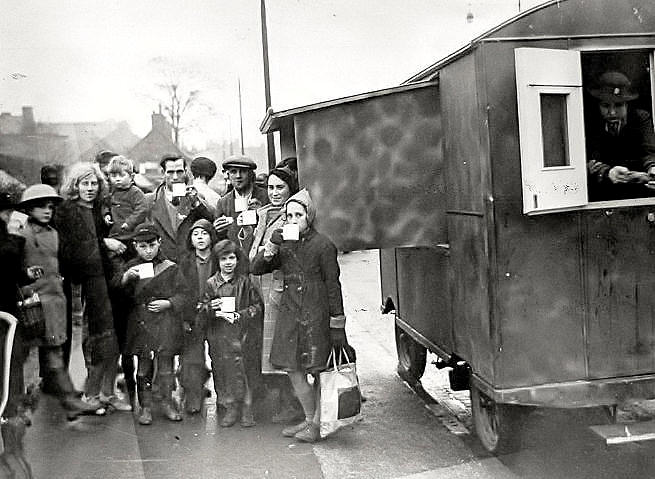 The second photo appeared in the Coventry Evening Telegraph in the 1980s, and features both of Graham's grandparents, Gladys and Alf. Gladys is second from left, holding their son, Jack (Graham's uncle), while Alf sips his tea next to her!
If anyone can us more about these great photos, please contact me.
5th June 2012 - Success! Ron Frost has written with much sterling information about the Mosquito photo....
"The photograph showing a group of workers in front of a de Havilland Mosquito was taken at the Standard Motors Facility at Ansty. Standard Motors were contracted to produce Mosquitos and Airspeed Oxford Aircraft during WW2. Component manufacture, sub assembly and main assembly was carried out at the Standard Factory in Coventry. The wings and fuselage were then transported on low loaders to Ansty, where final assembly and flight testing was carried out. The Ansty Facility had previously been owned and used by Air Service Training, a subsidiary of Armstrong Siddeley Motors. The site was returned to the care of ASM after the war, and still exists as Rolls-Royce plc. The buildings occupied by Standard are still in use. The photograph was probably taken to mark a milestone in production. Possibly the 500th, the 1000th or maybe the 1066th, which was the total produced by Standard. The aircraft shown is an FBMk.VI."
Many thanks to you Ron, now we just need to find out where the second photograph was taken.
25th June 2012 - And there's more! Alan Whitmore has yet more super information, as well as identifying an important member of the team in the photograph....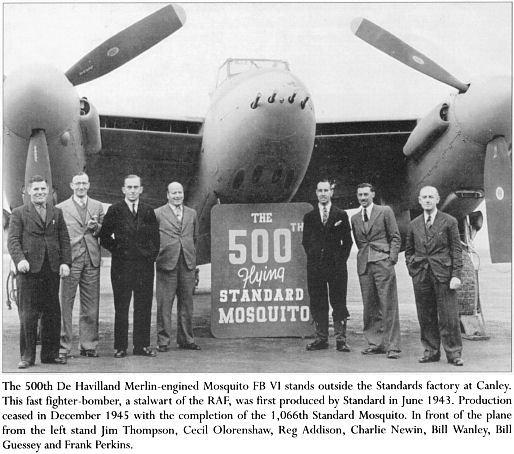 "Back row, fifth from left and standing under the aircraft door is Bill Wanley, Test Pilot. Bill had never ever flown before being trained by the RAF to fly the Mosquito. My late uncle told me that one lunchtime Bill flew one just above the railway line at Canley and virtually 'jumped' over the Fletchamstead Bridge - just to show the workers what they had built.
After the war Bill went back to car production and eventually became the manager of the Quality Control Department at the Fletch South factory. One would have thought he would have made a career of flying; when I was an apprentice he once told me that he had never flown since! Bill passed away about 10 years ago."
---
On the right is a picture of the 500th Flying Standard Mosquito, taken with permission from David McGrory's book "Coventry at War".
---
Alan has more to add about Coventry's wartime aircraft production and related things:
"The fellow on the right of the photo, Frank Perkins (Polly Perkins) - in the 50s and 60s he was responsible for those working engine models layed at Earls Court; they were all produced under his supervision in the Apprentice Training School at the Banner Lane factory.
"In addition, did you know that the Bristol Beaufighter was also built at Canley?
"In the mid 50s as an apprentice, I used to hear one workshop being called The Carburettor shop; I eventually found out they were referring to the shop where the carburettors were made for the Rolls Royce "Merlin" engines which were also built there; I can remember seeing the little engine test houses being used as stores at the back of the factory at Banner Lane. A few were demolished to make way for a large new test-house for the Rolls Royce "Avon" jet engines, which were being produced at the Standard Motor Co. Fletch South factory. I believe these engines were mainly used in military aircraft such as the Hawker Hunter (which, in 1953, achieved the world speed record in level flight - 727.63mph, flown by Sq. Ldr. Neville Duke at Littlehampton.)
"Just after the war Sir John Black won the contract to produce the Willy Jeep for Europe; as I understand, the idea sadly failed in favour of car production - Vanguard, Mayflower, Renown - and the little Standard 8 & 10.
When I came out of my apprenticeship in 1960 I bought a Standard 10 van for the princely sum of £411 which included optional extras - heater, passenger seat, etc. In the first year and using it as a "camper" it took me to Lands End, North Wales, The Lake District, The Highlands and John O'Groats.... that's when petrol was about 3s/6d (19.5 p) a gallon - and with a low compression engine it did 48mpg."

Many thanks Alan for such wonderful memories!
19th October 2014 I am extremely to Robert Riches, who has written to me to identify two more of the fine chaps in the first photograph involved in the making of this classy aeroplane:
"I was recently asked by my mother if I could reproduce a photograph which is the same as the one on this page. Being interested I asked why, and she explained that her father, Ken Gasgoigne, is second from the left, back row - and her uncle, Arthur Goss, is bottom right. My mother is now in her 80s but this has intrigued her, so she has started searching through photos to see if she has any more."
It will indeed be fantastic to see more if your mum can find them Robert.