Hare & Hounds, Keresley
(Progressing)
e have here an absolutely stunning quality photograph taken at the Hare and Hounds in Keresley around 1910. It has been provided by Paul Buttle, who can identify four persons in it, including his great-great-grandfather.
Paul informs us that the 'swells' in the back of the photograph - bowler hats etc. - were officials of the mining company that were sinking Keresley pit at that time, and the photo might have been taken prior to a charabanc outing.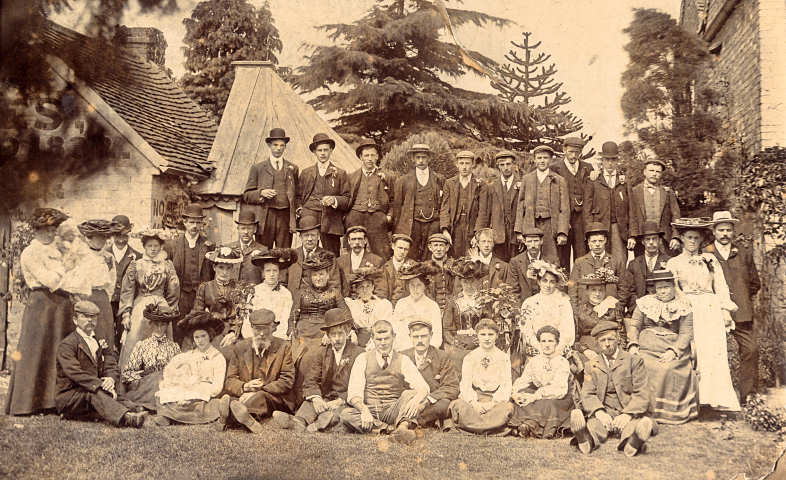 Paul also adds this to fill out some details behind the scene:
"There are four people I can identify: - Harry Lenton on the extreme right in the white hat - he was the pub's publican. His wife is the seated on the ground nearest to him. The large lady seated nearest to him in a straw hat is, I believe, Mary Ryan. The female stood next to her has her hand rested on her shoulder, so presumably she is her daughter. The old bearded chap in a cloth cap sat on the ground is my great-great-grandfather, John Goode, born in 1838 and described as a shepherd in a census.
"My grandfather, Edgar Buttle, not related to John Goode except he married his granddaughter, worked for Harry Lenton as a groom and barman. I presume that's how this photo came in to the family's possession - at one time it perhaps hung on a wall of the pub.... or perhaps other copies exist and more is known about it?"
If you click the button to see the larger sized image, I think you'll agree that it contains amazing detail, and everyone's face is perfectly clear. Please Contact me if you recognise anybody or if you know anything more.
---
Update, 7th October 2010
I'm pleased to say that Paul has managed to locate someone related to one of the subjects in his photo. Mary Ryan's great grandson, David Ryan, would like to add this....
"I can confirm that Paul Buttle has correctly identified Mary Ryan who was my Great Grandmother. This is the first photo I have seen of her, but my Aunt remembers her clearly.
We do not believe the lady stood to the side of her can be her daughter though, as her only daughter, Judith, died at birth or was still born.
We do however recognise Jim Ryan (Mary's oldest son) as the man standing on the far right of the back row with the moustache in the cap. He worked as a Waggoner labourer and so could have been involved in the construction of the mine.
We also think that the tall man in the bowler hat with the moustache, second left on the second row, could be my Great Grandfather, James Ryan (there is some debate in my family though as to whether this is true)."
---
Update, 8th September 2010
Our first response comes within a week of displaying this photo, courtesy of Tony Hammond, who adds this:
"I can't recognise anyone, but in the late '50s I was apprenticed at Bristol Siddeley (later Rolls Royce) and one of my fellow apprentices was "Snowy" Chambers, who lived next door to the shop on Bennetts Road, opposite the "Hare and Hounds". His grandfather (who was still alive and I remember that he drank in the pub) was said to have helped, or was in charge of, the sinking of the mine shaft. I daresay that one of the men in the photo could well be him, but unfortunately, which one I can't say! Snowy later married about 1962/63 and subsequently moved to Southend-on-Sea, and I lost touch."