Lena Conway and friends
(Solved)
esley Conway has sent me two lovely photos, both of which depict her mother on her honeymoon, apparently here in Coventry in 1949. Lesley's mum, Lena Conway, is the dark haired lady in each photo.
Lesley takes up the story....
"My parents, who were from Edinburgh, were married in April 1949 but postponed their honeymoon to Coventry until the Bank Holiday later that year. This is when these photos were taken.

"The other two people in the photos are Mr. and Mrs. Sheffield. During the war, my father, who was in the RAF, was pals with their son Douglas, and either lodged with them after the war or spent time with them on leave. They were obviously important enough to visit on a honeymoon, and the other important factor is that my brother was named Douglas, after Douglas Sheffield.

"Sadly, my father passed away in 1988, and this is all we know about the Sheffield family. My mothers name is Lena and my fathers name is George Conway (although he was also known as Mick Conway)."
Lesley, who was born in Melbourne, Australia after her parents moved there in 1960, would dearly love to get in contact with the Sheffield family or relatives, and also find out if indeed these photos were taken in Coventry.
---
So, if anyone does recognise this venue with the fountains in the background, please don't hesitate to
contact me
, so I can inform Lesley, and of course, I will print your answer here for all to see.
---
---
Success! (Updated 17th November 2010)
We finally have an answer for this mystery. We are able to solve the venue and supply another photograph with help from friends Anne-Marie Bradshaw and Lisa Miller.
Anne-Marie has provided me with this lovely photo showing a brother and sister, John and Mary, in front of the pool. A quick look at the fountain arrangement in both pictures provides a convincing match. Lisa, meanwhile, informs us that the location is Jephson Gardens in Leamington Spa, and that the little boy is her dad - the girl, of course, now being her aunty Mary.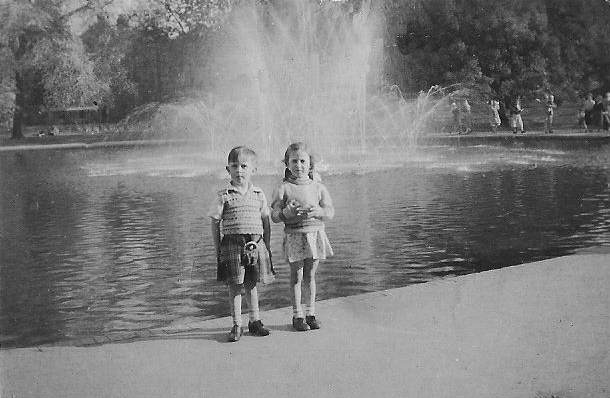 Update 8th May 2012
Frank (Francis) McKenna would like to confirm the location of the photo in Jephson Gardens, Leamington by adding: "On the right as you go in the main gate is a pond. It had two 'crown' shaped fountains. I think they are still there."