Coventry's Three Cathedrals
Not many cities can boast more than one cathedral.... fewer still can claim to have had three!
ost people are of the opinion that this is something to be proud of - others might say we were severely unlucky losing two cathedrals; the first to King Henry VIII as a result of the dissolution, and the second to the German Luftwaffe in the
Second World War
. But however one looks at it, our cathedrals are part of an outstanding heritage, and many thousands of visitors from around the world flock here every year just to see them.
Each cathedral can be accessed by clicking on the photographs or titles below, so I hope you will stop for a while, and visit the THREE CATHEDRALS OF COVENTRY....
Built around nine centuries ago, St. Mary's only stood for just over 400 years but still has an important presence in the city....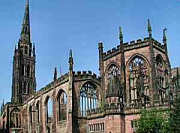 Coventry went another four centuries without a cathedral, but in 1918 St. Michael's parish church was finally elevated to that status. Now in ruins, it's fondly known as "The Old Cathedral".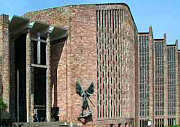 It's said that every cloud has a silver lining, and indeed; after the unfortunate events of WW2, Sir Basil Spence gave Coventry this twentieth century masterpiece....