Bus Driver, Alfred Heath
(Solved)
his particular mystery photograph is a more personal one. Michael Heath was born on the Foleshill Road in 1958, and although he now resides in Chippenham, he can trace his Coventry roots back to the 1850s.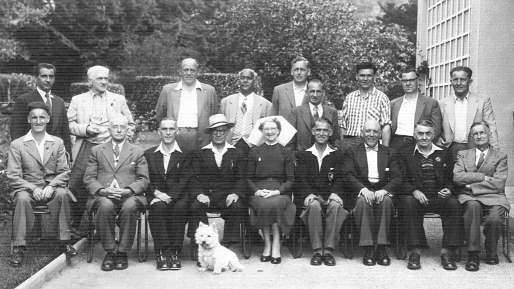 Michael now takes up the story....
I have a family photo that has always intrigued me. The man fourth from left in the front row (holding the dog lead) is Alfred Heath, who was born in Aston, Birmingham in 1901, and died in Coventry in 1958. He was a bus driver for Coventry Transport for many years, (known affectionately as 'Little Alf') and there is a family rumour that there was a time when he had to convalesce after an illness. I think that this group might be connected, if only for the presence of the nurse in the front row. Other than this, I don't have any more information, except to say that it looks as if the jackets / shirts worn by a couple of the sitters are the same - suggesting that it may also be connected to some club or other. Who the rest are, and why they posed for this quite formal photo, I've no idea!
Michael thinks that this group portrait might have been taken around the late 1940s, so as always, please contact me if you can recognise anyone in the photo, or the location, so we can help Michael with this family conundrum.
---
Indeed we do have a suggestion. Christine Jennings-Bates has the following to say about the place....
"We think this photo could have been taken at a nursing home in Dawlish Warren, Devon, it was run by the Hospital Saturday Fund. My husband spent a couple of weeks there in 1958 after having an operation at Keresley Hospital."
---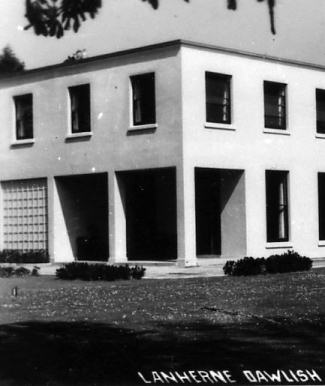 By amazing coincidence, just two days after Christine suggested the possible location, Vic Terry noticed this page and would like to confirm Dawlish Warren as the answer to this mystery. Vic says....
"The group is definitely at the Men's Hospital Saturday Fund Convalescent Home, Lanherne, Dawlish - where every intake had a photo taken to remember great friends made there during an important time of ones illness. The Ladies Home was called Sefton Hall, and the two sets of inmates were not supposed to fraternise, BUT there was a little Pub in town called The Railway! WELL!?!?
I think it's fair to say that the care and help given by the staff was first class, and I don't ever recall any complaints when I sat on the Sub-Committee later."
This picture on the right is an extract from one of Vic's postcards depicting Lanherne, Dawlish, and the square glass panels give away the location of Alfred's group photo above.