Leamington Ales
(Solved)
ere's another picture from June's photo collection. A large group posing outside a pub, whose landlord is Frederick J. Gibbs. All we can deduce is that the place sold Leamington Ales and Stout.... so does this mean that it's a Leamington pub? If anyone recognises one of the group, or knows more about the location of the pub, then please share your knowledge with us....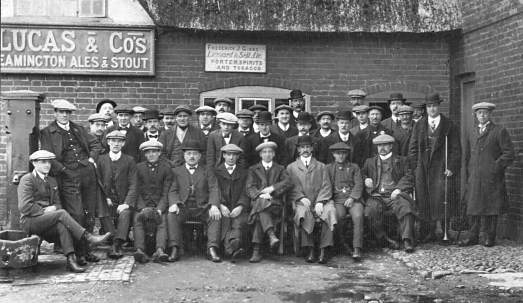 Barry Page has done a little research after seeing this picture, and tells us that, although the Lucas & Co. Brewery was based on The Parade in Leamington Spa, this photograph was not necessarily taken outside a Leamington pub. Pubs using this Brewery were almost certainly only to be found locally, examples of such being in the Plough Inn at Eathorpe, the Dun Cow Inn, Stretton-on-Dunsmore, the King's Head in Wellesbourne, the Plough and Harrow in Whitnash and an off-licence in Radford Semele. But despite some sterling work trawling through hundreds of archived photos, Barry has not yet found one that matches this particular image.
We have a success! Brian Stote takes up the story....
"Digging for Frederick J Gibbs, I discovered one living in Weston-under-Wetherley in the 1901 Census, aged 25, and listed as a Licensed Victualler. He is stated as being born in Cubbington. I searched the International Genealogical Index and discovered him in the 1881 Census, aged 5 (born in Cubbington), living with his father, John Gibbs, a twin sister, Florence Mary and a younger sister Lilian Ann aged 3."
However, not merely satisfied with finding the possible roots of licensee, Fred Gibbs, Brian takes our story a little further....
"I have cracked the mystery of the Leamington Ales photograph. There is only one pub in Weston-under-Wetherley - The Bull's Head. I searched the web and found a site dedicated to the village (www.windowsonwarwickshire.org.uk) which had several old photographs, including the attached:"

This photograph belongs to www.windowsonwarwickshire.org.uk, and must not be copied without permission.
As you can see, this 1921 Weston United football team photo was taken in the exact same place as the group above. And we now also know that Barry Page was on the right tracks when he says that it was "almost certainly only to be found locally" - Weston-under-Wetherley is only three miles from Leamington!
Summing up, Brian adds - "Thus the photograph was taken outside The Bull's Head at Weston and the Frederick J. Gibbs whom I found was almost certainly the licensee at the pub, since he led me to W-under-W in the first place."
I think we've got this one wrapped up!!