Are these the Rover factory steps?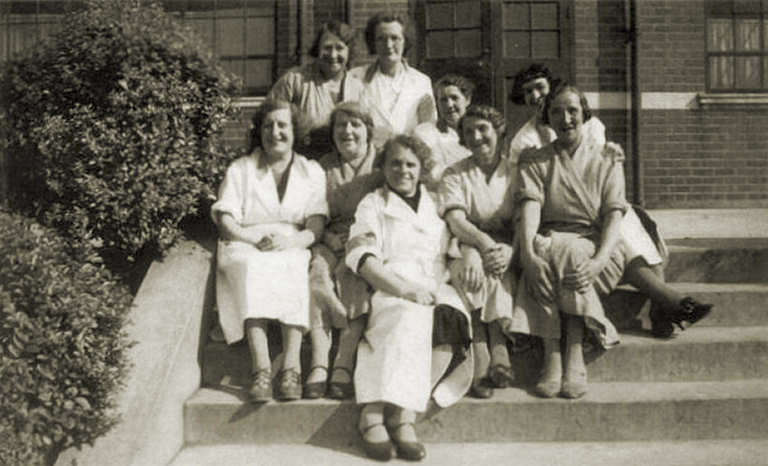 laine Evans believes that her grandma, Emma Lena Rose, once worked in the canteen at the Rover factory in Coventry, and the overalls worn by these ladies certainly suggest their job. Emma Lena lived in Webster Street before to moving to Oliver Street in the mid 1930s, and can be seen here right at the front of the group of colleagues. The location of her home makes sense, because Oliver Street runs alongside what used to be the Helen Street Rover plant in Stoke Heath at that time, which after the Second World War was sold to the G.E.C., who remained in ownership for the rest of the 20th century.
The question is, though.... was this photograph taken at the Rover factory?
If anyone can confirm where or when this photograph was taken, or perhaps even recognise a relative, please
contact me
to help us solve this latest photographic mystery.
---
Update, 26th January 2013
Some great news - another of Emma Lena Rose's grandchildren has been in touch. Valerie Dytham (nee Brown) is the daughter of Emma's youngest child, Mary Rose, who was born in Webster Street but later bombed out. Valerie adds:
"My gran, Emma Lena Rose, is sitting centre, lower step in this photo. It's 100% definitely her. Gran Rose brought up 5 children alone by working all hours. She was a Coventry Kid. They made them tough in those days!"