Ford's Hospital
Here's another chance to see Ford's Hospital from another angle. I have a little more about the history of Ford's in the Tour section, but here you can compare this gem of a building in two photographs taken well over a century apart.
This first view is looking northwards up Greyfriars Lane, and even then, around the turn of the 20th century, Ford's stood out as an important relic of the past. A click on the image brings us forward to 2022 where this old relic stands out even more!
The second photograph, below right, from just after its destruction in October 1940, shows a rare glimpse of the plainly designed but still rather lovely timber cottage that used to stand next to the more famous almshouse.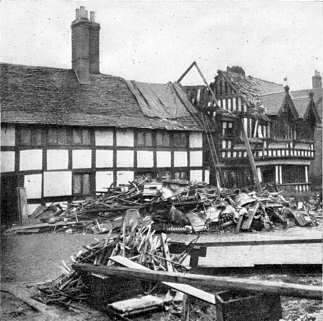 Another rarely seen photo of the damage sustained by Ford's can be seen here, taken from a 1942 book "The City we Loved", which lamented the then recent loss of "Old Coventry".
It's ironic that the cottage on the left (which was used by Ford's for additional accommodation) received relatively little damage but it was Ford's which, understandably, was the one to be saved. Personally I think they would have made a pleasant looking pair if still standing today.
Below is a closer up view after much of the rubble had been cleared and the building cordoned off. Clicking the image will reveal a 2022 view showing how the beautiful restoration of 1953 has been well maintained.