Trinity Street & Hales Street
Rather than the usual "old Coventry" being swept away, it's only 20th century Coventry that's disappeared between this pair of scenes. Built in 1937, the near end of Trinity Street has been bulldozed, including the popular Thornton's "Chocolate Kabin" on the corner. As can be seen from the 2007 picture, we're still waiting to see what will fill the derelict space.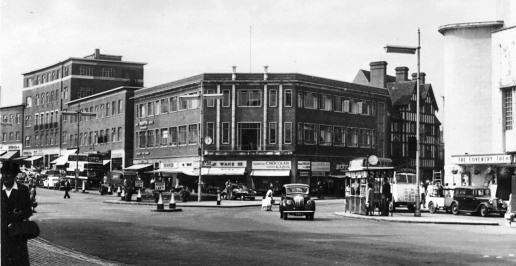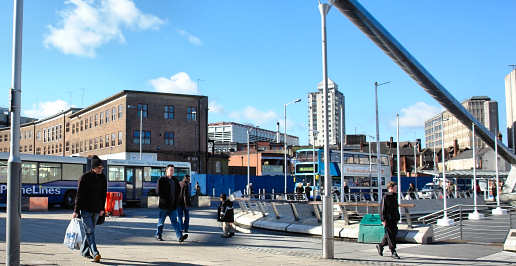 We're already familiar with the changes on the right, however. Millennium Place now fills the void left by our theatre, also built in 1937, and originally known as the New Hippodrome, but by the time this photo was taken, had recently been renamed The Coventry Theatre.
If we now pan round to the left a bit, we get a similar view - but a little more revealing about Trinity Street. The temporary shops on the left were soon to be replaced by the Sainsbury's supermarket and various other smaller shops, as shown in the 2007 photograph, taken by my wife, Bev.
Other minor changes include the building of a strange tower-like structure at the top of the street on the right, and alterations to the road layout, which no longer allows parking up the centre of the street.