Ford's Hopital, Greyfriars Lane
rom the Manor House, you can cross New Union Street into Greyfriars Lane and on the right you will arrive at Ford's Hospital.
This hospital or "almshouse" provided sheltered accommodation for elderly people and was founded in 1509 by William Ford. Originally it housed five aged men and one woman, but was further endowed in 1517 to provide shelter for six couples, and again in 1529 by William Wigston for five more old couples with a small weekly allowance.

On the night of 14th October 1940 it was struck by a single bomb which killed the warden, a nurse and six residents.
The structure itself was quite severely damaged but not totally beyond repair as more photographs of this fine timber building will testify on this Now and Then page.
The beautiful relic of the past does rather suffer from its modern surroundings, however, particularly the ugly grey multi-storey car-park visible in the background on the left of this 2022 photograph. Recent planners appear to have little or no sympathy for our heritage when it comes to the design and placement of new structures.

The building was faithfully restored in 1953 using wherever possible, original materials salvaged from the ruins.
Whilst searching through the damage, Coventry historian John Bailey Shelton uncovered the remains of a tiled floor from the 1300s. One tile was decorated with the black eagle of Leofric. It is thought that previously, a chapel associated with Greyfriars monastery stood on this site.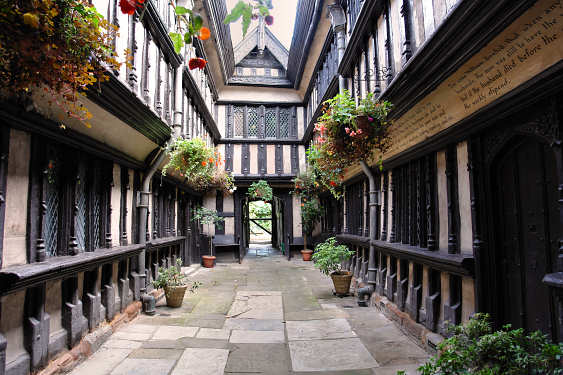 The views inside this extremely well kept hospital, as seen here, have probably not changed significantly in the five hundred years or so since it was built.
How does the street in which it stands in modern times compare with the early 1900s? See Now and Then
---
On the 28th August 2006 this wonderful old building became host to a high profile TV filming session. David Tennant and Freema Agyeman (his newly appointed assistant) plus a huge BBC crew arrived in Coventry to film part of a Doctor Who episode for their forthcoming spring 2007 series. I took a few photos of the event, and they are available to view on this page.
---