Bablake School & Bond's Hospital, Hill Street
he first half-timbered Tudor building in the picture below is the old Bablake boys school, and beyond that, the cream fronted building is Bond's Hospital. The latter, also known in days gone by as Bablake Hospital, was founded by wealthy Draper and former Coventry Mayor, Thomas Bond, in 1506.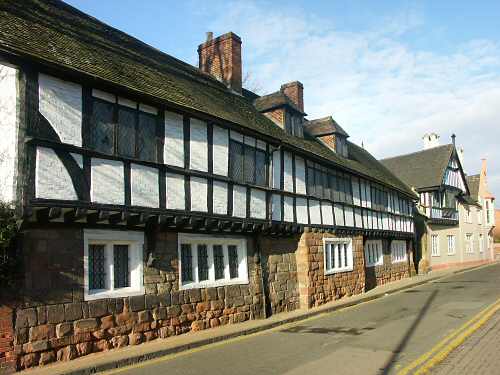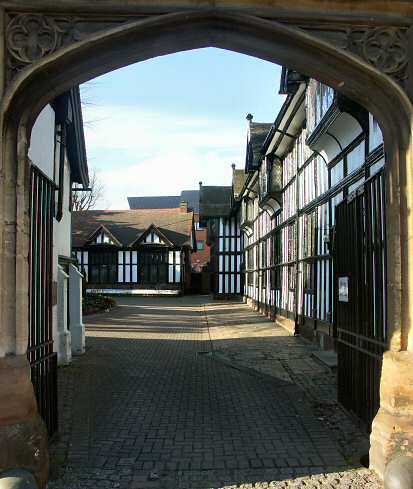 The Bablake school building here was founded in 1560, but the educational institution possibly originates from 1344 when the Bablake lands were granted by Queen Isabella.
Between the two buildings is an arched gateway through which you would be met by the pleasant sight shown on the left depicting the courtyard shared by Bonds and Bablake. This view is unlikely to have changed significantly in the last three centuries.
To see just how Hill Street looked in 1910, please take a look at the "Now and Then" section.
As you pass through the arched entrance into this little quadrangle of serenity, a glance to the left will bring a view down the cloistered passage of one of Coventry's former premier boys schools, Bablake. Offices are the modern day function of the place, but fortunately it has retained its medieval character.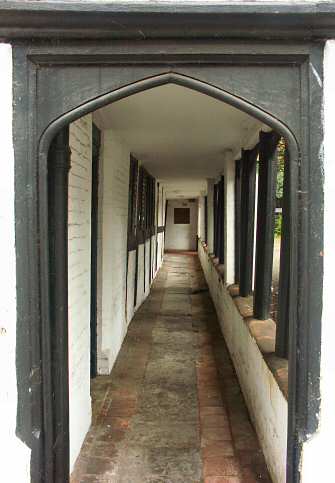 The early success of Bablake school was due to a piece of extreme good fortune. The school was heavily endowed in 1563 by Thomas Wheatley, a wealthy merchant and former Mayor of Coventry (1556). He had sent someone to Spain to purchase a bulk of steel ingots, but when they arrived back in England it was discovered that he had mistakenly been supplied with, amongst other items, silver ingots! These were held onto for some time while enquiries as to the true owner were made, but when nobody came forward, Wheatley put this wealth to good use.
In 1890 Bablake moved to its new home at Coundon Road, where it still fourishes.
From the far side of the courtyard, this last photograph below shows the view looking back towards the gateway (obscured by the shrubbery and monument). The the left is Bond's Hospital, and to the right is the rear of the ex-school.