Christ Church, New Union Street
ere are two views of Christ Church, which stands between New Union Street (originally Union Street) and Warwick Lane. Both photos are from a similar standpoint but separated by over one hundred years (2022 and c1910). If you're interested in seeing more of these "before and after" pairings, I have many more in the Now and Then section of the website.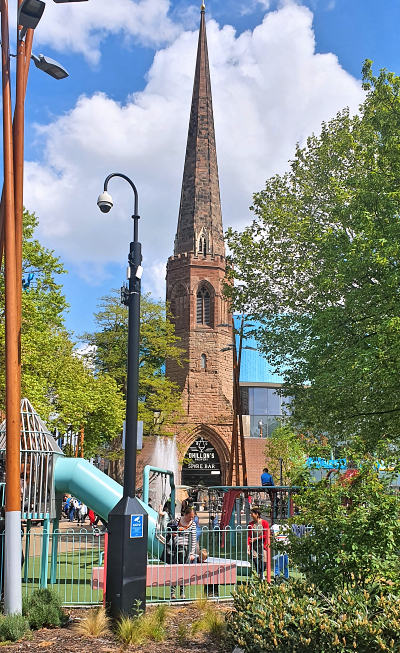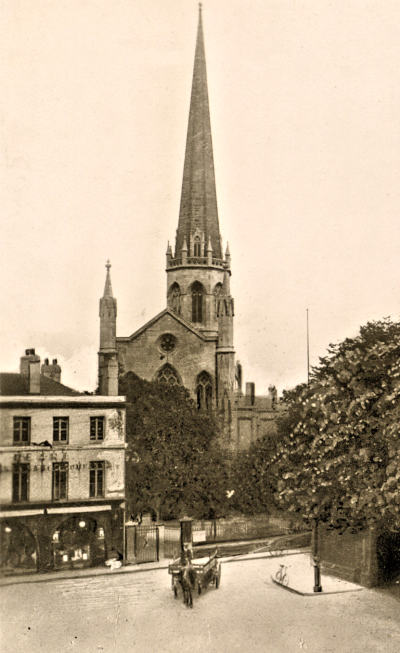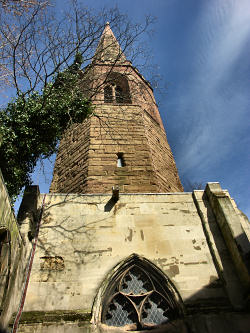 The original church on this site was part of a Franciscan monastery, first built here in the early 1200s by monks known as Grey Friars, and was much larger than its 19th century rebuild - 240 feet in length by 60 feet wide. The structure was cruciform in shape and straddled the centrally placed spire. However, it became another of Coventry's victims to King Henry VIII's dissolution of the monasteries in 1538. Fortunately, the tower and spire were retained, keeping for our city its third spire for which we are now famed.
Some years after the old church was demolished, the base of the spire was used for the keeping of pigs... so the spire earned the nickname of the "tallest pig sty in England"!
By the beginning of the 1800s Coventry's population was again on the increase and with St. Michael's parish alone containing over 12,000 inhabitants it became a priority to build another church to share the load. By the mid 1820s donations and subscriptions had been collected and the existing tower with spire was given to the church by Coventry Corporation. The second half of the decade was spent on the final obstacle of freeing up the land around the spire that had been built upon since the project was begun.
The foundation stone was laid on the 16th March 1830, and Bath stone with brick was used for its construction. By spring 1832 it was complete and had its consecration ceremony on the 3rd August that year. Due to the restrictions of the surrounding buildings, the new Christ Church was only 124 feet in length and 55 feet wide and the spire was now at the east end of the church forming the chancel, rather than centrally positioned.
However, the lifespan of the second church was even shorter than the first. It survived the first major air-raid of November 1940, but Coventry suffered two more air-raids of similar magnitude on the 8th and 10th April the following year, and it was the second of these which destroyed the main church building for the second time in its history. In spring 1950 the remains of the walls were demolished and Coventry's third spire stands alone once more.