Transport Museum pt.2 - New Hales Street Entrance in 1985, by Paul Maddocks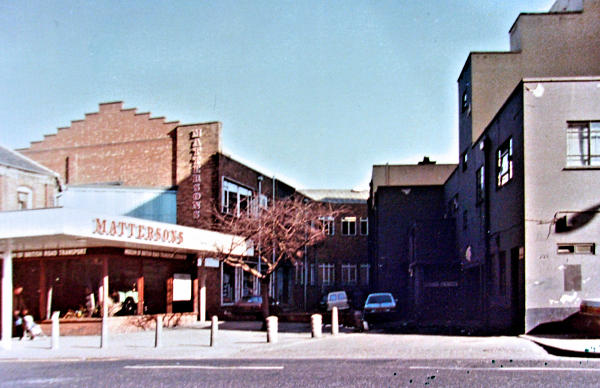 St Agnes Lane and the theatre's stage door entrance.
ive years after the Museum of British Road Transport opened the attendance was still very low - partly due to the cost of admission, while most museums were free, but also because its entrance was in Cook Street, a back water of the city. It was not on the route to anywhere and was difficult to find, especially for tourists. It got so bad that it ended up closed for most of the week during the winter months, only opening on Fridays, Saturdays and Sundays.
In 1985 the museum's neighbour, Matterson, Huxley and Watson Ltd (ironmongers), which once occupied the space taken by the museum, had to down-size when they stopped selling tractors and large grass cutters from the store. And now they were moving their painting and decorating section to another of their stores in Kingfield Road. This space would give the museum access to the small road, St Agnes Lane (right), which once ran from Hales Street to Cook Street and was the site of one of James Starley's early factories making the Ariel high wheeler cycle.
The museum jumped at the chance of having this new access entrance, and I was asked to work on the project. At the time St Agnes Lane was the access to the stage door of the Coventry Theatre, where artists would enter the building. There are many photographs of bands such as the Rolling Stones doing this. But it was also the place where they kept the bulk bins and it was not kept very clean.

St Agnes Lane and the new Transport Museum entrance.
The lane was wide at the Hales Street end but got a lot narrower towards the museum. I did some designs and made the entrance look like the type of museum you would see in children's comics - a 'Greek Parthenon style'. We were also able to have the small display box at the Hales Street end. I had a replica wooden car made to go on top of the roof - a copy of a burgundy 1910 Humber Landaulette. A while later we repainted it yellow, as it did not stand out enough. Inside the box I put on changing displays and scenes to attract people's attention.
Inside the museum I wanted it to feel like you were walking back in time with a foyer and museum shop plus ticket office. Please see the drawings.
Around the same time the once West Midlands Local Government were closing down and had some funds left over for one-off worthwhile projects, so I suggested street-scenes throughout this new space that we had just taken over. At home, after putting the children to bed, I did a series of sketches of what they could look like (see drawings below), showing the buildings, then what they would look like with cars and other items in front of them, called Memory Lanes.
The Managing director was very good with words, so he applied for the money along with my drawings and we got it. It was not a great deal of money, so I tried to keep costs low and went to a building reclamation yard to get doors, windows and other features, and employed a local builder, A. Sutch and Sons. This was great, as the carpenters and bricklayer were given free range. I would show them the drawings and what windows and doors I had got, and they just got on with it. They enjoyed it as much as I did - they even went down to Spon Street to see how the timber-framed buildings were put together. When we officially opened the 'Memory Lanes' exhibition we got the Lord Mayor and corporation, plus we invited everyone who had worked on the exhibition along with their families. They said it was the first time they had ever been invited to anything like this, and that they had enjoyed it and would bring other friends and family to see it.
To help get extra funding we also got local companies involved, so when I designed a posh hotel frontage with a fountain in front, the De Vere Hotel manager paid money to have the hotel's name on the building. We got other companies involved, too, and these included: the Coventry Building Society, Matterson's Huxley and Watson Ltd, the Royal Mail, Jackson's the Barbers, Taylor's the Florists, the Coventry Telegraph, Park Side Garage, Cash's, Gladdings Cakes and bread, Cartwright's Estate Agents, and Coventry Silvercraft of Lamb Street, who made a lot of bespoke souvenirs for the museum shop to sell.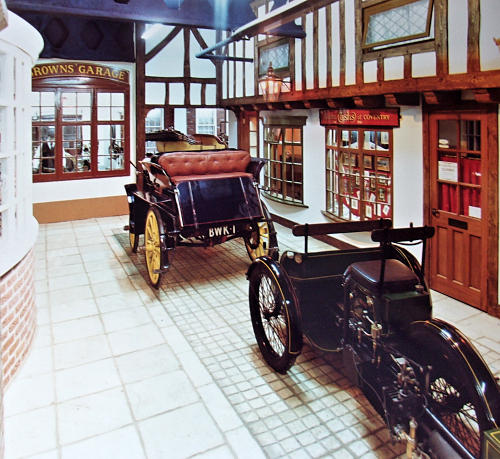 Even councillor Len Hilton collected everyday items like enamel signs, biscuit tins, chocolate tins, cooking utensils and many other items, so we opened up a 'Len Hilton Emporium' to display them all in. Len kept buying interesting items which we would put in the Emporium, which filled up with everything from a sawing machine to a portable church organ. I also added background noises, so when you walked around you triggered speakers to make sounds like horses trotting on cobbles, street sellers calling out, factory noises, or music, which all added to the atmosphere. Later on I added smells, which were little pots of oil which when warmed up would give off a smell like bread baking, beer, a factory, and many others. All this made the museum more interesting to all, including women and children and not just men and their cars.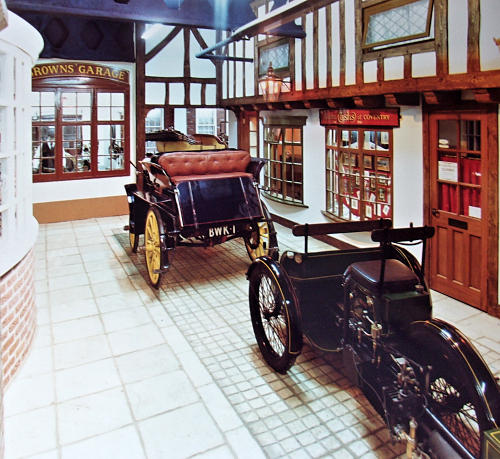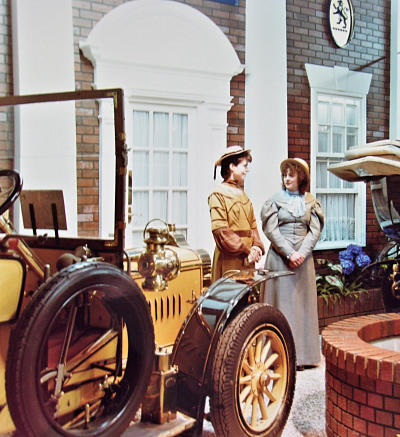 A bit later on we built a twelve-seater cinema into the lanes, and called it the Roxy Cinema. The films we showed were made by ourselves using staff and friends to act out the scenes. The first was "Rowley's Ride" which was about Rowley B. Turner who, while at the Paris Trade Exhibition working for the Coventry Sewing Machine company, bought a French Velocipede and brought it back to Coventry for the company to make copies. This was the start of the cycle industry in Coventry. The other film was about Harry Lawson, an early motor car businessman and a rogue (I played this part). They were both done as silent films with piano background, and both can be watched on 'You Tube':
Sadly, most of the Memory Lanes items were ripped out in 2014 after I left, but the hotel and timber-framed buildings survived.
Read Paul's next excellent Transport Museum article: Creating the Blitz Experience.