Phil Silvers Archival Museum, by Paul Maddocks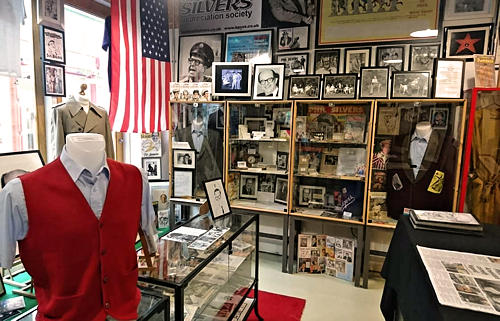 Inside the Phil Silvers Archival Museum.
ho would believe that an American comedian would have a special museum and archive here in Coventry? Yes, Phil Silvers is remembered here in FarGo Village off Far Gosford Street. And it's the only one in the World.
I live across the road from this wonderful place and have known Steve Everitt, who runs it, for many years now. He is Phil's number one fan and can tell you no end of stories about Phil Silvers. He has most of his clothes and photographs which he has collected over many years, and has got to know the Phil Silvers, family visiting them in America many times. He can tell you every film that Phil has been in - he should go on Mastermind with questions just on the life of Phil Silvers!
November 1st 2015 marked both the 30th anniversary of Phil Silvers' passing, and the official opening of the Phil Silvers Archival Museum. Located in Coventry's popular niche retail and creative quarter, FarGo Village, the museum was the realisation of the ambition of The British Phil Silvers Appreciation Society to open a permanent exhibition dedicated to the late great Phil Silvers.
Steve Everitt opened the museum and he has been a lifetime fan of Phil Silvers. Steve and the appreciation society had worked exhaustively in 2014 to release the MediumRare boxed set, 'Sgt. Bilko: The Complete Collection', which finally saw the release of all four seasons of The Phil Silvers Show on DVD. The society were keen to mark 2015 - the 30th anniversary of Phil's passing and the 60th anniversary of the debut of The Phil Silvers Show - with a celebratory event, and what better way to mark that occasion than with the opening of an exhibition of Phil Silvers memorabilia.

The Museum has been self-funded since its inception, but following a crowdfunding campaign enough funds were raised to enable the Museum to expand. Celebrity endorsements came via pledged support from comedians Phill Jupitus and Tim Vine, radio presenter Danny Baker and Star Wars icon Mark Hamill:
"Steve and Mick: Thank you for getting this amazing place together. A joy! TAYYYYYY-UP!" - Phill Jupitus
"This is great work you do. I am awed. It is in the spirit of Phil Silvers the joy unfolds." - Danny Baker
Famous visitors to the museum: Tim Vine, Danny Baker, and Phill Jupitus holding a Bilko animation pencil sketch.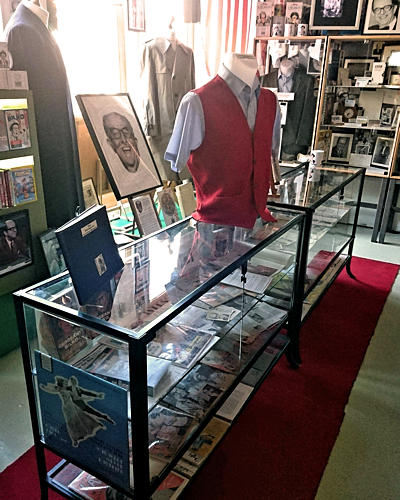 The crowdfunding project gave them enough money to facilitate freeing up some much needed space and to make some internal alterations, including a new dividing wall, light sensitive window blinds, and cabinets to safely display the more sensitive items, such as the original opening credits animation art and cels (celluloids), an extensive image gallery, and a large-screen monitor to show Phil's work.
The museum is filled with many items of Phil's personal possessions, several of which were donated personally by his family. Ephemera on display includes clothing, artefacts, letters, photos and documents, along with a host of other memorabilia which celebrates both his personal life and his professional career.
Recent acquisitions include a jacket from the Debbie Reynolds Estate which Phil wore during his screen test for the 1944 film Something For The Boys, and a rare British poster for the 1950's re-release of Phil's 1941 film You're In The Army Now.
The museum attracts daily visits from people from all areas of the UK, and even gets visitors from overseas. We're extremely proud of the fact that this the only museum in the world dedicated to preserving Phil's enormous legacy.
The Phil Silvers Archival Museum is open six days a week, Tuesday to Sunday, from 11am until 5pm. Entry is free and all visitors who sign the guestbook will receive a complimentary Phil Silvers badge.
Again, we in Coventry have the only Phil Silvers museum in all the world!
It's well worth a visit and it would be lovely to see Phil Silvers' shows back on our screens.
Paul Maddocks, 2022