Family memories of Burt West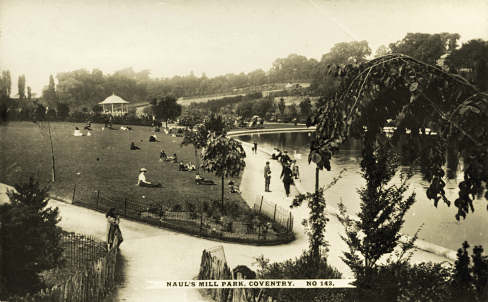 At the end of Mill Street, where Burt's mum was born, was Naul's Mill Park, pictured here in its prime before the First World War.
orn in 1940; the year Coventry changed forever, Burt West retains many memories that have been passed down the generations of his Coventry based family.
Beginning with his mother, Grace Mary Hogan was born in Mill Street in 1906. She worked in the weaving industry at Leigh Mills - a place better known by most people now, of course, as a car park. Burt's mum told how the girls there had to communicate using sign language, because the machines were much too noisy to enable normal conversation!
Perhaps, during what little leisure time Grace might have had, she relaxed in Naul's Mill Park, situated at the end of the street where she was born.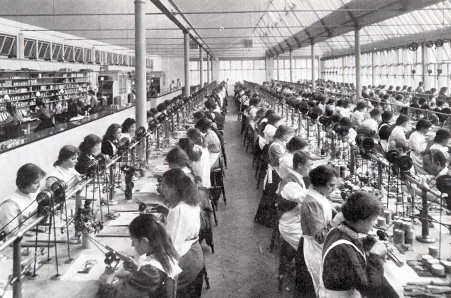 Rotherham's factory, pictured here around 1910, was synonymous with the watch making industry in Coventry.
Burt's grandfather, George John Hogan, also lived and worked in Coventry, beginning in the clock and watch trade, almost certainly in or around Spon Street.
After watch making, George joined forces with his father and uncle Tom, who had a stand in Broadgate from where they ran a horse-drawn taxi-cab service. As an interesting sideline from 'normal' fares, the Hogans also had a padded carriage for taking insane people to Hatton Hospital. According to Burt.... "It was a well know saying in Coventry to 'fetch Hogan' if someone had gone nuts!"
As the First World War approached, the government commandeered all the horses, and gave the Hogan family a note to the value. Unfortunately, no money was forthcoming, and so eventually the business folded.
When the time came, Burt's granddad was called up for his army service, where fortunately he survived the terrible 1914 to 1918 conflict. Many tales were to arise from his time spent in the trenches - Burt remembers....
.... "he captured a Turkish officer who he became very friendly with, but felt sorry for him and let him go. The officer gave him a pearl handled revolver and a bag of diamonds! I always remember seeing them as a young boy, but I think they were lost in a card game, so nothing was ever passed down.... but stories of yesteryear - they're worth more than material goods don't you think? I wouldn't have minded a nice Coventry pocket watch though!"