Coventry Remembered, by Andrew Ross
stood awhile in Broadgate today and reflected on the changes that the years have wrought. The post-war redevelopment made Broadgate an island. There were cobble-stoned 'bus stops on the west, north, and east sides, and Hertford Street was still a street. All the buses proudly bore the Coventry coat-of-arms on their crimson-and-cream coachwork, and in gold leaf, the name of the general manager, Ronald A Fearnley.
I remember when they started carrying advertisements - somehow it seemed to cheapen them. Now, there are no Coventry City Transport buses.

I remember when every bus had a conductor, and the driver sat in splendid isolation in his cab, and we boarded at the back, not the front.
I remember the Guy utility buses with their wooden slatted seats and crash gearboxes. Wonderful, I thought them! The whirring flywheel on the transmission was visible through a wire-mesh grille just behind the driver's cab.
I remember when films for children were screened at the ABC cinema on Saturday mornings. The Empire is long gone.
I remember the Gaumont Cinema in Jordan Well, where on Saturdays Mr. Habberjam ran a childrens choir, and the "Boy Wonder", Michael Donald, played the mighty Wurlitzer. Michael went on to become Organist and Choirmaster at St Mary Magdalene on Hearsall Lane. He also became Musical Director of the Coventry Orpheus Singers.
I remember the opening of Coventry's most prestigious Hotel - the Leofric - where the rich and famous stayed when visiting this old city. It's a "Travelodge" now!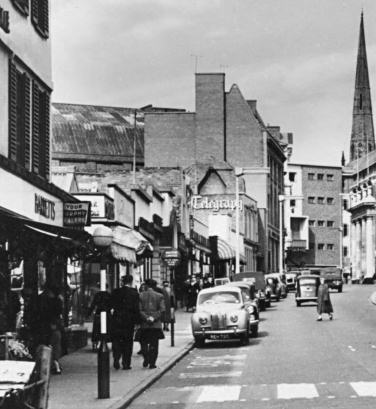 The Telegraph office in Hertford Street 1955.
I remember when the office of the Coventry Evening Telegraph was in Hertford Street opposite the Queen's Hotel (see the picture on the right), and Hansons music and record shop.
I remember when the splendid half-timbered facade on the corner of Trinity Street and Priory Row was Timothy Whites and Taylors. Now it's a Wetherspoons pub.
I remember the dark and mysterious maze of oaken alcoves and partitions which made up the Golden Cross in Bayley Lane, where I first tasted the amber nectar - under-age, of course!
I remember Coventry's two point-duty police stands. The first was at the top of Bishop Street, where the constable stood on a wooden plinth cut on the slant to cancel out the slope of the road, whence he directed traffic to and from Bishop Street, Radford Road, King Street, and Leicester Row. (You might like to see one of these constables on duty there in the 1930 on this now and then page.) The other was at the Five Ways junction at Greyfriars Green, with traffic for St. Patrick's Road, Eaton Road, Queens Road, and Warwick Road in two directions (see the photograph below). A "Tardis" stood at the corner of Greyfriars Green!
I remember another "Tardis" Police box, which stood in Hollyfast Road, Coundon, at the junction with Westhill Road.
I remember the many temporary (often corrugated asbestos!) shops which sprang up in the bombed areas and which lasted well into the fifties and sixties. Jordan Well, Ironmonger Row, Ford Street, Corporation Street, Bishop Street, and of course Broadgate. The last-named included Lyons Teashop, which was a firm favourite with many.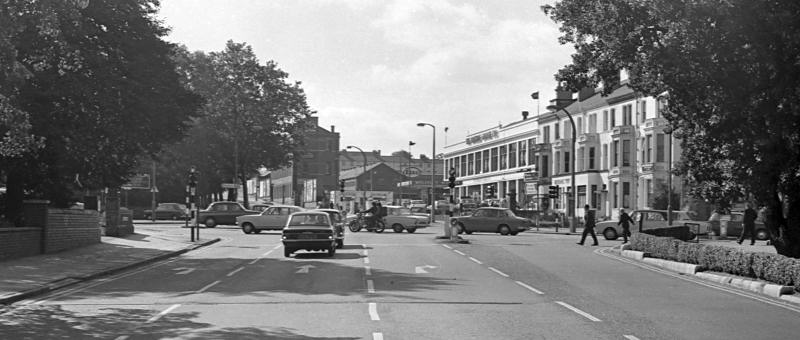 Five Ways junction at Greyfriars Green in the mid 1960s. Andrew remembers seeing policemen on point-duty at this junction where St. Patrick's Road, Eaton Road, Queens Road, and Warwick Road all meet. This scene, of course, was soon to disappear under the Inner Ring Road development.
I remember the great Good Friday processions of Witness when all the church choirs of the City, after enrobing at the County Hall, assembled in the Cathedral Ruins and marched through the city streets singing the hymns of the Passion and finishing in front of Holy Trinity Church, where the Bishop spoke to a packed congregation which filled Broadgate and Trinity Street.
There was also an annual Combined Choirs Festival in Holy Trinity Church, which was conducted by Harold Dexter, B.Mus., FRCO., Organist and Choirmaster of Holy Trinity, Leamington Spa, and Music Master at Bablake School. Leonard Tanner, B.Mus. FRCO. of Holy Trinity Coventry was the organist. Today it would have been called "The Thousand Voices"!
I remember Canon Graham Clitheroe, Vicar of Holy Trinity, the Parish Church of Coventry. He trundled round the town on his little Francis Barnett motorbike and was a much-loved and familiar figure.
I remember a visit to my school, Hill Farm Junior, by a chap named Harold Suddens. He was an ex-schoolmaster, a JP of the City, and perhaps a bit of an educational reformer. From him I learned that spelling can be fun: for example 'committee' is "c, o, 2m's, I, 2t's, 2e's" Simple! That has been locked in my memory for 57 years and it's the first time I've ever written it down!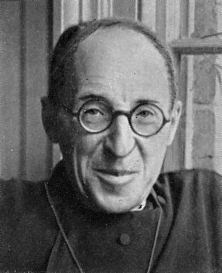 Bishop Neville Gorton.
I also remember a visit to the school by the then Lord Bishop of Coventry, Dr. Neville Gorton. I found him an immensely inspirational figure, and was prompted to join the choir at Holy Trinity, where I sang for many years.
Trinity Church Choir also holds many memories for me, some of which I'm not very proud! However I can well remember singing at the wedding of the daughter of Bill Pether, who was Director of Music at the Hippodrome. It was a very showy affair and we were paid half-a-crown (12.5p) for it! A less happy occasion was the funeral of the Lord Bishop, Dr Neville Gorton.
As choirboys, we inevitably got up to all manner of mischief, snowballing the gaslamps down Hill Top, playing rat-a-tat-ginger on the doors down there, and teasing the old park-keeper at the Swanswell Park.
I remember the "Prefabs" - precast concrete and asbestos dwellings hastily erected immediately after the War to deal with the acute housing shortage. I particularly remember those in Holloway Fields and Scots Lane, Coundon, and those in the Canley and Torrington Avenue areas. Hostels were also built with similar materials in Holbrooks, Willenhall, and Keresley.
Another left-over from the War were the brick and concrete public Air Raid Shelters. There was one on the verge outside No 80 Brownshill Green Road - I lived at No 74.
I remember George Stokes' cycle shop in Much Park Street. Old George was often to be seen sitting at the back patiently lacing rims to hubs and truing them up. The rather younger Arthur held the fort in the front of the shop. For a cyclist it was Mecca!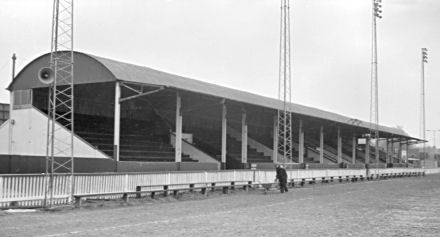 The Coundon Road R.F.C. ground in 1968.
I remember the roar of the crowds at Coundon Road, which I could hear from my grandmother's house in Moseley Avenue. We could always tell when 'Cov' had scored a try, and before long my father took us along to watch matches.
My earliest recollections of the Coventry RFC team include Harold Greasley, Ivor Preece, and Harry Pateman. I well remember Ray Batstone, Johnny Gardiner, Jackie Swann, Niall Bailey, and the South African, Chick Henderson.
Later there were such illustrious players as Peter Jackson, Fenwick Allison, John Price, Phil Judd, Mike McLean, Herbie Godwin, Jim Stewart, George Cole, Ricky Melville, Brian Irvine, and Internationals such as P G D Robbins, David Duckham, Fran Cotton, Peter Preece, and Peter Rossborough. The list ought to be endless, but sadly "Cov" was never a fashionable club and has fallen out of favour.
I remember when Coventry provided 12 or 13 players to the Warwickshire team which won three County Championships in a row.
I remember when Coventry City won the F A Cup in 1987. The following day I drove through the City Centre ahead of the team bus, and the crowds and atmosphere was magical. The fountain in Belgrave Square was Sky Blue!
I remember when Warwickshire County CC played matches in the City - at the Courtaulds Ground in Holbrook Lane. Sad it is that Coventry can no longer host the county side, whose headquarters are not even in Warwickshire!
I remember when Keresley Hospital played an important role in the City's healthcare. Latterly it was a Maternity Hospital where my sister was born and where my first wife aborted our first child. The Matron was a Welshwoman who ruled with a rod of iron! Her name I cannot recall, but she was a legend! The chief Gynaecologist was a Canadian, Mr. Duval who had extremely large and hairy hands but reputedly the touch of a butterfly's kiss.
The Hospital is now a restaurant!
I remember when steam locomotives trundled regularly over the level crossing in Coundon Road and flattened the pennies we placed on the rails.
I remember when Naul's Mill pool (below) in Middleborough Road hosted the Miniature Hydroplane Racing Championships. Scaled-down boats with 10cc and 15cc engines tethered to a central pivot screamed round in circles at speeds up to 60mph!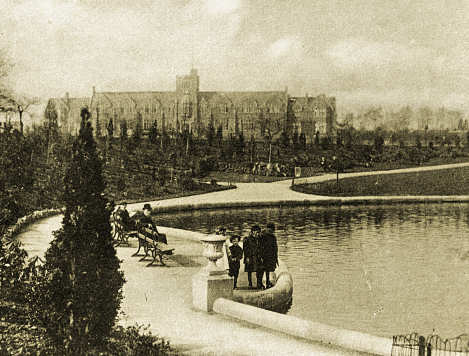 Naul's Mill pool with Bablake School in the background c1910.
I remember when my Dad took me to his Allotment, off Radford Road, often riding in the Wheelbarrow! I watched and learned how he grew the vegetables we needed in those critical years. I saw him establish a colony of beehives and helped him to reap the rewards of lime and bramble honey. Later, we set up an apiary at Keresley Vicarage, where clover was prevalent.
I remember when my brother and I would walk, often on a Saturday morning down through Jubilee Crescent to the old Radford Aerodrome, and via the "Black Pad" go over the footbridge and past Bretts Stamping Works to Lockhurst Lane and thence to Livingstone Road Baths for a swim.
On the corner of Lockhurst Lane and Livingstone Road there was a baker's shop, Farr and Reddy, which always exuded a super yeasty smell!
There were several local amenities for adventurous youngsters. The Bablake Playing Field was one. The northern part, bounded by HollyfastLane and Duncroft Avenue was not used by the School. It was ancient ridge and furrow pastureland, and contained two ponds, reputedly a result of jettisoned bombs from a stricken Junkers during the War. There were quite a number of mature Oak trees, too, including two with hollowed trunks - perhaps hit by lightning - and we used to climb up one of them on the inside!
The larger of the two ponds was stocked with sticklebacks and frogs, and was the scene for many muddy exploits! The other pond held newts and seemed darkly mysterious.
The gang, mostly from Brackenhurst Road, played endless games in the field ranging from Cowboys and Indians, hide-and-seek, and Statues, to football and cricket. Later in our youth we went there to fly our model planes.
Between the Radford Road and Holloway Field were the High Mounts. This was an area of uncultivated and hilly scrubland, sometimes known as The Dumps. There was a pronounced escarpment running down its length and steeply sloping paths led from the top path, down to the Radford Road. We took advantage of these slopes in snowy weather to go sledging, and it's a miracle that nobody ever got hurt - it was quite common for sledges to career down the path and shoot across the pavement and across the road!
I later learned from my Mother that the road from Radford Common up to the island at the bottom of Brownshill Green Road was called "Twists Hill".
The third recreational facility for us was Coundon Park, in Waste Lane. This was a level grassed area providing football and cricket pitches for local teams. There were also children's swings and roundabouts in the south-east corner, and the park was patrolled (I use the term loosely!) by an old Keeper whom we dubbed "Leatherneck" due to the wrinkled and tanned skin visible between his peaked cap and his collar.
Every summer there was a Fete there, and a small funfair was also a frequent attraction.
In our teens, Bob Garrett and I would cycle up there and spend hours kicking his Rugby ball around and practising place-kicking.
Summertime often saw the Brackenhurst Road gang up there playing quite serious cricket. Trevor Bowron and Peter Kelly were good fast bowlers, and Keith Fellows and Michael Vaughan were canny spinners!
I have vivid memories of those clear summer evenings, listening to the distinctive synchronous throb of the four engines of the Douglas Globemaster aircraft which frequently passed, high above.
We also saw and identified the occasional USAF jet bomber, the B47, high in the blue summer sky above us.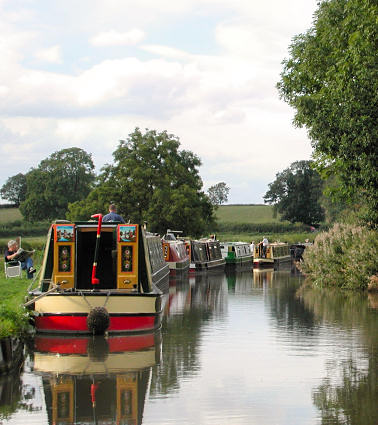 Part of the Oxford canal near Easenhall.
The canal system in and around Coventry was still in use, but only just. It was rapidly falling into disrepair. My brother and I used to cycle out to Shilton to go trainspotting, and rode along Deedmore Road into Shilton Lane. Between Winston Avenue island and Lentons Lane there were three canal bridges, and at that time - the mid 1950s - the canals were still navigable and in use at each of these locations. The first two were arms of the Oxford Canal, serving the wharves of Lenton & Bray, I suspect, and other merchants in the area.
As a boy I frequently visited my Grandmother who lived at 65 Moseley Avenue. My brother and I would often go round the corner into Chiltern Leys and the Recreation Ground there. It never occurred to us as odd that no houses were built there, but I later learned that the area was a major clay-pit, supplying a nearby brickworks (possibly on the site of St Georges Church), and that on refilling, it was deemed unstable and therefore unsuitable for building. Tennis Courts and a Putting Green were therefore put in place.
This realisation came a little too late, as in later years, a number of adjacent properties, including Cheetham's Dental Surgery, and my Grandmother's house next door suffered severe subsidence problems.
A bicycle gave me the ability to travel freely around Coventry, and of course was a necessity for attending School. My early schooling was at Hill Farm Infant and Junior Schools, in Foster Road. In the Infants section the Headmistress was Miss Wakefield, who seemed a distant authoritarian. My first teacher was Mrs Skuse, and my last Miss McDermott - a lovely warm and almost maternal figure.
In the Junior School, my first teacher was Mrs Stone, who was impressed by my spelling ability. I gained First Prize in her class, a book, Adventure and Life, which is still a treasured possession.
We were taught to write by Miss MacDougall, one of the old school, and many people have commented on the quality and legibility of my handwriting.
My next teacher was Mr. John Eric Dodd who was distinctly unmemorable. However, I think that it was in Mr. Dodd's class that we first became acquainted with the new-fangled ball-point pen, patented and therefore called after its inventor, Biro. I then moved up to Class 1, under Mr. Levy, who was great! Because my birthday fell in September, I was ineligible for the 11+ exam in 1958, and spent an extra year in Mr. Levy's class.
I remember playing football on the school field, and gained the nickname "dynamite" for the distance that I could blast a ball with my trusty boot! I can only remember playing in defence!
For one lesson per week we went to Mr. Palmer's classroom, where we were taught technical drawing. What I learned there has stayed with me and stood me in good stead, despite my leanings towards the arts. Mr. Palmer was famous (locally) for his turn of phrase, calling errant pupils "miserable specimens".
I wonder how many 10-11 year-olds get taught technical drawing today!
From Hill Farm School, I progressed to my 11+ first choice school, King Henry VIII, thus following in my father's and my older brother's footsteps. I remember being intrigued by the inkwells on the desks. I first saw them when I went there for the exam for a Governor's Scholarship, which I narrowly failed. We were supplied with pens and nibs, and a monitor was responsible for topping up the inkwells. We were also supplied with blotting paper. I still have my original school pen! No biros here at that time - they were the exclusive preserve of our teachers!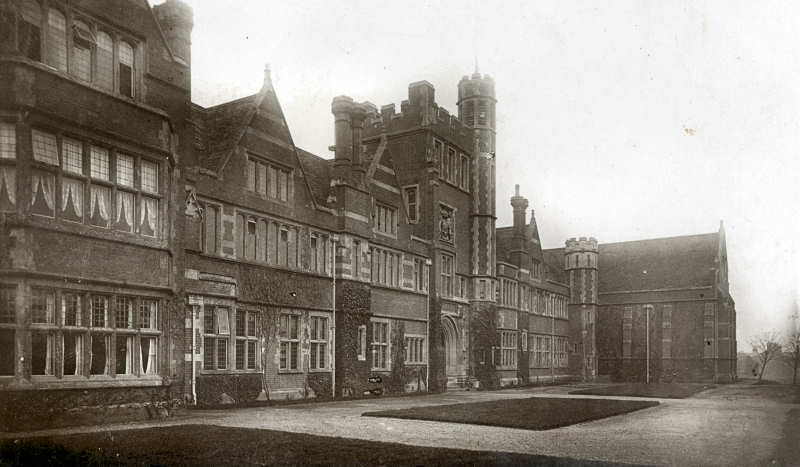 King Henry VIII school, Warwick Road, photographed in 1911.
The School had no gymnasium in those days. If weather permitted we did our PT outside in the playground. If not we went inside to one of the temporary huts erected after the bomb damage sustained during the Blitz. In today's Health and Safety era, the asbestos element doesn't bear thinking about!
I remember a number of local coach companies. Bunty Motorways had a garage under the arches in Spon Street, and their coaches were painted green. Red House Motor Services were also well-known, and presumably had their premises near to the Red House Inn, on Stoney Stanton Road. They also operated a heavy haulage business, and I associate the name of Tom Venn with them.
RHMS provided transport for pupils at KHS to the cross-country venue at Kirby Corner, and to the Rugby fields on Stonebridge Highway. They also supplied a petrol-engined Bedford-Duple coach, SKV 101, to transport the School Dramatic Society on a touring production of 'Hamlet' to Germany in 1957 (I played Horatio). We gave performances in Gutersloh, Kiel, and Lubeck.
This was in the days before roll-on/roll-off ferries. In Dover Harbour, the coach was craned bodily from the Quayside and placed abeam the after deck of the ship. After a rough crossing (ferries had no stabilisers in those days!) it was heavily encrusted with salt on disembarkation at Ostende!
Coventry, the City of my birth, will always hold memories for me. Most of them are good, and match the fortunes and aspirations of the motor City in its boom years.