Schoolboy fun around town with Patrick Casey
---
Patrick Casey and his friends enjoyed seeking out the lighter side of life, and in the 1960s there were plenty of things going on around Coventry's new city centre to keep them amused....
---
y route home from school on the bus took us along Warwick Road and up Hertford Street, still open to traffic in those days. Eventually the bus would gasp its way into Broadgate, disgorging and spilling about a hundred schoolboys under the elephant or outside Owen Owen's.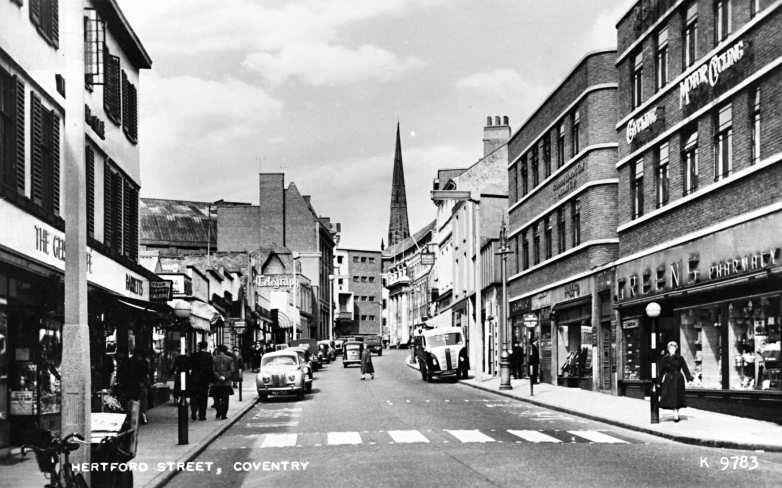 A 1955 postcard showing how Hertford Street looked before it was pedestrianised.
I can't now remember for certain which way Godiva was facing back then but as either the morning bus or the return bus slowly manoeuvred its way in or out of its allocated spot, it was always a great treat to catch a brief glimpse of Godiva's trailing foot, draped on the wrong side of the horse, so to speak.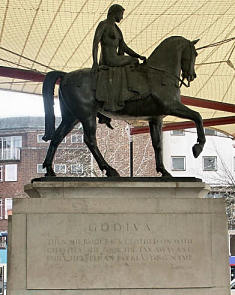 The Lady Godiva Statue in Broadgate. Since those 1960s school days, Patrick can never look at this horse in quite the same way again!
At the critical point her foot looked like a strategic part of a male horse's anatomy. It was quite realistic if the light was behind it. An even bigger schoolboy thrill was if it happened to be raining heavily. The water would cascade down her leg, down her foot and off her big toe in torrents which all added to the authentic look of the horse's apparent appendage. I don't know what effect this had on schoolgirls but it would have us boys snorting and guffawing for days. Simple pleasures.
Often my usual first port of call on the way home would be across Broadgate to the beautiful old library that was, I believe, knocked down to make room for the abomination of the Cathedral Lanes Shopping Experience. What an experience. The old library was full of Gothic arches and leaded light windows in every nook and alcove. Inside was lots of polished oak carvings and tracery, the smell of beeswax and dusty books and damp coats. Just the sort of place for 1960s schoolboys to go sneaking about, dipping into such racy and illicit novels as Dr. No and From Russia With Love. That is until a librarian would snap the book shut in your face, just when you were getting to the good bit, and hiss, sotto voce, "you shouldn't be reading that". In keeping with the building some of the librarians were a bit Gothic too. Perhaps they came as a job lot with the fixtures and fittings.
Next on the route home might be a trail along the cobbled streets past the Festival cafe, and around the corner towards "Hill Top" and Kennedy House. If we were feeling brave enough and it wasn't too dark we could scare ourselves to death going past the graveyard in Priory Row at the side of Trinity Church. This area was the feature of a Tony Robinson Time Team investigation in recent years. I don't think this is telling tales out of school now, but if Tony Robinson drew a blank it might have been because someone got there before him. I remember some older and, no doubt, braver boys "finding" some bones in that area and causing mayhem with them amongst teachers at school the next day. I remember the police getting involved and words like "desecration" and "sacrilegious" being bandied about.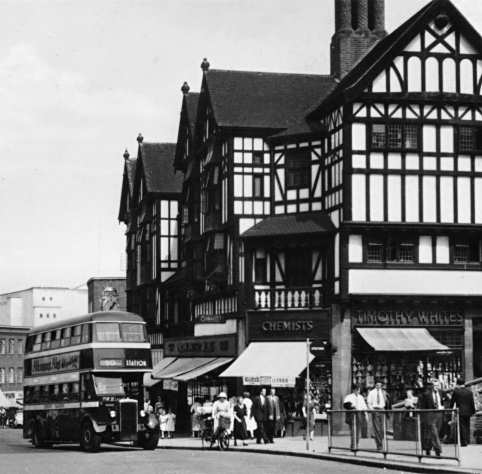 Timothy Whites in Trinity Street; now a Wetherspoon's pub but also remembered fondly by many as a Wimpy cafe where one could enjoy the famous Knickerbocker Glory. (More about this place on Simon Shaw's nostalgia page,
Joybert's Musings
.) Hidden from view behind the bus is the entrance to New Buildings, where Exchange & Mart was an Aladdin's cave of goodies to browse through.
Another good diversion was Epstein's St Michael and the Devil doing battle on the front of the new Cathedral. I don't know why kids are drawn to these things but the devil's personal attributes were certainly more authentic and impressive than Godiva's horse in Broadgate, rainwater or no rainwater. Another favourite en route to Pool Meadow was down past Timothy White's (right) just off Broadgate, down New Buildings - a little dingy street - behind the Silver Sword to the Exchange and Mart shop. This was always good for a 10 or 20 minute browse.
Of course building work was still going on in and around the Cathedrals and the Lanchester College (Coventry Polytechnic / University) at that time with plenty of scope for schoolboys to creep like snails unwillingly either home or to school, gaping at men and machines at work. I remember great caverns, deep below street level being walled up and acres of sand and cement through which to drag one's feet. With so many distractions all over the city it was impossible to get home much before someone else had eaten your tea.