The Life of Riley, by Ron Critchlow
y grandfather came from Huncote in Leicestershire, a quarryman, a strong Baptist and a founder of the quarrymans' trade union. He moved into Nuneaton at an early age, continued in quarrying and became a cornerstone (excuse the pun) of the local Baptist church becoming the senior Deacon and educator. He produced my father and daughters. My father did the things of the day, survived the Somme (he was awarded the Military Medal, apparently for shooting pigeon for the Colonel's dinner, so we were told) and participated in producing me in 1930. He was also a well known organist and choirmaster at St. Francis' Church and Keresley Church in Coventry.

We moved to "Kuv" in 1938, and one of my first memories when I was eight years of age was listening to Chamberlain's declaration of war at our home in Links Road on an Echo radio. The next was helping build an Anderson shelter in the garden. This at the time, as some readers will remember, was when Jubilee Crescent was in its early stages with just a few shops in one segment, a newsagent's, a Maypole (I think), a fish and chip shop (vital for life) and something else. There were massive advertising boards with box-sectioned ends on the other three quadrants, which we used to climb inside for illegal doings and secret meetings.
We then moved further up Links Road to number 37, which was almost next to St. Francis' Church, and amongst other things took in the vicar, Johnny Herbert, as a lodger. Up to that point my life had been school at the corner of Ludgate Hill, Radford School, and Radford Road, but one day it wasn't there. We were transferred to a brand new school named Hill Farm for half a day per day. The children to teacher ratio was into the 50:1 level (teachers please note).
The hit of the day was walking down Cheveral Avenue playing marbles in the gutter en route to the new Savoy cinema, which offered a talent competition night on Fridays, a magnificent Wurlitzer organ with Leslie Bayliss the organist. One of their early films was Wallace Beery in Treasure Island. Saturday mornings was the Rialto cinema club, Lone Ranger and Tonto, etc. and a Space Odyssey of some sort. On reflection we walked from Links Road to the Savoy and Rialto day or evening, no problems.
One evening in November 1940 my father decided we would visit an aunt in Nuneaton. So off we went in the family car, an Austin Sixteen. As usual the sirens went and we watched in awe from Nuneaton at the red sky over Coventry. Next morning my father and I tried to re-enter Coventry and were only allowed to do so on production of I.D. cards. Coming in from the Nuneaton end we did not see much damage until we arrived in Links Road only to find the Church partially gone and likewise our house. Had we decided to stay at home that night the story would have ended here.
So we trotted back to Nuneaton and said to my aunt "Can you have us?", and there we stayed for a good year until we moved back into Coventry, my father being appointed as regional manager of a retail clothing company located at 234 Foleshill Road. This used to be the home of George Elliot (Mill on the Floss etc.) and also the residence of the City Recorder in past years. We also had great neighbours, the Pickens, who invented the salubrious and probably first takeaway where they created pork batches with crackling. This all took place opposite Cash's Lane and a number 20 bus stop. I don't think the Corporation allowed batches on their buses but the combination of batch shop and bus stop created a good reference for my father's business customers. You could fall out of bed into the Roxy cinema which was damp, the River Sherbourne ran beneath it.
We traded with Broomfield, a good family provision store, and the butcher on the corner of Cash's Lane. "234", as the house and business came to be known, always seemed full of people rehearsing for something or other, usually connected with St. Francis' or Keresley Church, whist drives or parties. The war did not seem to dampen people's spirits at all, and although we witnessed the results of the Eagle Street bombing (I believe over 50 people killed or injured by a land-mine), things went on.
Whilst this was going on I was dispatched to Pridmore Road School where I stayed until aged fourteen or thereabouts. In the senior school there were four classrooms and a playground. The teachers of the day were dedicated; Mr. Hancock, Mr. Pearson and an elderly lady that took the senior class. My main competitor for top of the form was Jean Osborne (she was also my secret pin up). Her parents owned the sweet shop just by Lythalls Lane railway bridge. Most of my pals lived in Matlock Road and we hunted in packs. John Harris was my closest pal.
Then one day my father told me I was going to Coventry Junior Technical School. What's that? "You'll find out" I was told, "you must get a green cap". Due to clothes rationing the full uniform had been discontinued.
So at this point my memories were: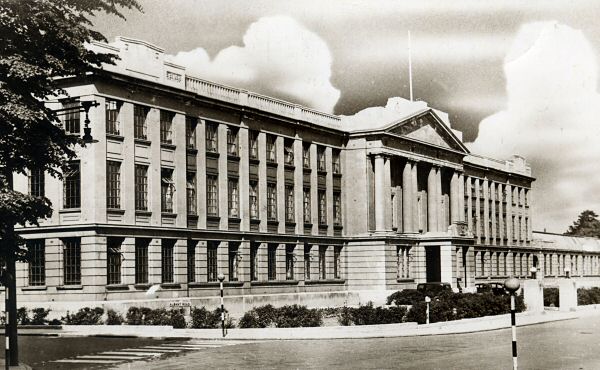 The Butts Technical College in 1952, as it would've looked during Ron's time there.
Junior Tech was like moving into the space age; twelve forms of twenty four boys each moving from classroom to classroom for each subject, fully equipped workshops for woodwork and metalwork, and a gymnasium with instructor. A headmaster, Mr. Wilson, and a deputy, Mr. Sparks, and different teachers for each subject; maths, english, geography, history, woodwork, metalwork, chemistry and P.E., twelve forms of twenty four boys per form for two years. Everything you could wish for plus the girls' equivalent school in the same grounds.
We were taught well and in a different way, an opening to later life. There was also the lighter side, like having to present lectures on your hobbies. My chum at the time, John Challoner, presented a lecture on his hobby - fishing. Quote "to be a good fly fisher you have to know how to cast straight". This didn't come out quite as he meant and he had us all in an uproar. Miss Cotteral our teacher didn't smile outwardly. Rugby football was the game with cricket in the summer but strangely no sports ground on site. Hearsall Common was the location but we were surrounded by good professional locations, Coundon Road, Preece, Duckham, the Wheatleys, etc. and Courtaulds sports ground for the best of cricket, Compton, Constantine, Hollies, Ames etc.
So two years ticked away, parents looking for clues as to what I was to do. "Right lad we have got you in at Armstrong Siddeley Motors, five years, sign on the line don't let us down". So that was that.
This era produced:
A polished and honed automotive engineer (so I thought), ready to serve the Queen.
A member of the Demon Cycling club; 100 in 8 and all that. (Used to train alongside Eileen Sheriden on K10 or 11 in the week days. My big pal was Bernard Davies who was a brilliant track cyclist and who sadly died at a very early age leaving his lovely wife and parents distraught.)
Captain of Hill Farm second Rugby team.
A first and good girlfriend, parent approved, Joan Lane of Lime Tree Avenue and Demon C.C.
A lasting regard for the Coventry Theatre; pantomimes, Laurel and Hardy, Mel Torme, Reginald Dixon and his mighty organ, Abbot and Costello, Norman Evans (over the garden wall), George Formby, and of course the fantastic Bill Pethers and the Orchestra playing on the steps of the theatre on V.J. day and every other occasion you could think of. They should have put the decision makers who agreed to the theatre's demolition in with the rubble.
A life long love of Big Band music.
That all stopped in 1952 when Her Majesty claimed me for National Service but that's another story and led to a life in Singapore, Italy, South Africa, a bit more of Coventry and now in Devon.