---
s well as being a great source of old photographs, postcards can also provide an useful insight into the opinions of visitors to our city. A few candid words will quickly betray their thoughts, giving us the objective view of a neutral observer. It is also interesting to study the handwriting, the sentiments and the humour used by folk in decades gone by.

---
1920s: The Council House - one of the finest
he designers of Coventry's Council House, Edward Garrett and H. W. Simister, would have certainly been pleased to know the contents of this postcard.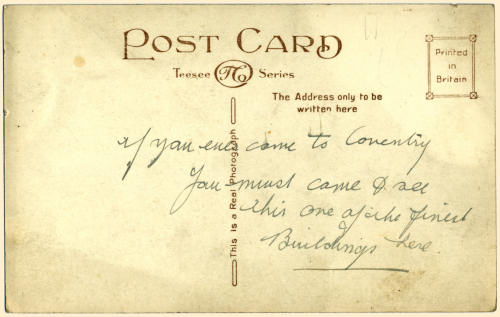 ---
Postcard text: If you ever come to Coventry you must see this - one of the finest buildings here.
---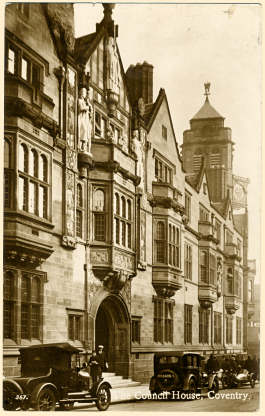 Erected, surprisingly, during the First World War, and replacing a row of much smaller shops and properties, the council house would have appeared extremely imposing, especially for people emerging from the narrow Little Park Street opposite.
The pleasant view of the municipal building in this postcard scene would have been taken from the corner of High Street and Little Park Street, and includes some fine examples of motor cars and a motor cycle & side-car of the time (which can be viewed zoomed in by clicking on the postcard).
If you wish to see this fine building still under construction, please take a look at this Now and Then page.