Page 16
P. C. Rollins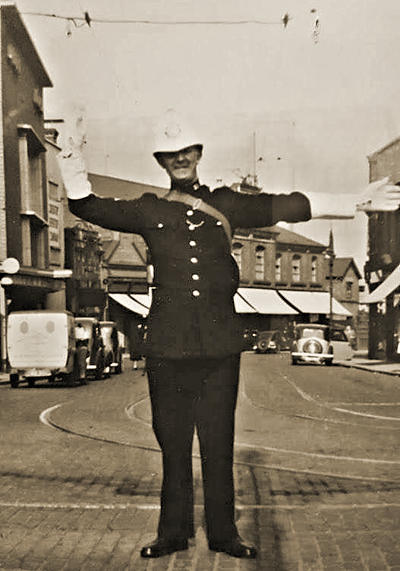 an Tew has kindly allowed me to publish pictures and details about P.C. 25 Kenneth Rollins, Ian's wife's grandfather.
P. C. Rollins was killed while on duty on the night of the Blitz and, like many others that night, died a hero, attempting to save the lives of others. A newspaper article, transcribed below, describes an act of pure bravery performed by him.
Sadly, despite surviving the blast in Trinity Street, he was to perish performing an equally gallant task in Jordan Well later that night.
His death report can be read, with thanks to Peter Garbett for photographing the records held at The Herbert History Centre.
---
P. C. Kenneth Charles Rollins (right) on point duty at the bottom of Bishop Street, at its junction with Hales Street.
---
Wrecked Arcade
  The next explosion occurred at about 1.30 at the glass and china store of Messrs. W. H. Rhodes Ltd., in Trinity Street, where P. C. Rollins had made a desperate effort to remove a bomb that had been dropped behind the front protecting door of the premises.
  The policeman tried to fish out the bomb with his baton but was unable to do so. He blew his whistle, and was on his way to give an alarm at the Fire Station, but had not gone many steps before the bomb exploded with great force.
  It completely wrecked the enclosed arcade front of the shop, shattering windows, buckling and twisting bronze frames and smashing scores of of pieces of English cut glass, crystal and pottery.
  This store, with its modern and artistic windows, was opened only last September, and some of the most expensive stock was exhibited in the arcade front.
  A director of the firm, which has branches in other parts of the country, is Dr. Harold Rhodes, former organist at Coventry Cathedral and at present organist of Winchester Cathedral.
The following information was compiled by Peter Garbett in November 2020:
On the night of the 14-15th November 1940 Mrs. Minnie Stokes, a 71 year old married woman, and recorded as a charwoman who worked at the council house just up the road, was sheltering in the safety of the cellar below the Decorwall wallpaper shop at 46 Jordan Well that evening. The short stocky lady, her complexion shrivelled and sallow, had sought relative safety. She was wearing her black boots and stockings and her print dark blue coat. She was joined by 35 year old Mr. Walter James Denham Hoare, a storekeeper at Armstrong Siddeley, with his wife Hilda May, a 43 year old crippled housewife (this is how it's recorded). She was wearing iron braces on her right leg, plus her brick red jumper, navy blue frock, and green jumper. She had light brown hair and grey eyes. Mr. Hoare had dark hair and was balding on top with a moustache. But that night was not going to be like any other.
The bombing was severe and they, plus several others, had become trapped in the cellar and called for help. Their cries were heard outside, and a number of police officers with others came to their aid - among them Sgt. C. G. Boneham, 30 year old P.C. Rollins, 34 year old Special Constable Harry Berry, and 26 year old Special Constable William Robert Lambe. As they removed debris that had landed on the cellar it soon became obvious that more help was needed, so Sgt. Boneham returned to the nearby police office to summon up more help. Just as he was about to return he heard an explosion, and a few minutes later was told by inspector Ward that a bomb had dropped on the rescuers. The sergeant went straight there, but it was obvious that both the rescuers and those they were trying to help had all been killed instantly.
Then a further bomb dropped and threw tons of debris onto the spot, followed by a fire breaking out, so work had to be abandoned. It is not clear if 50 year old Special Constable Frederick Barratt, who was taken to Coventry and Warwick Hospital and later died of his injuries, was killed in the same incident.
Above are some of the belongings found with PC Rollins that night, including his police torch.
It is thought that Kenneth's watch stopped at the precise time he was killed.
(Left) PC Rollins' ashes are marked by a small grave at Badgeworth, near Cheltenham.
His son, John Rollins (Ian Tew's father in law), who still lives in Binley Woods, near Coventry, recalls travelling from Coventry to Gloucestershire on the bus with his mother, holding on to Kenneth's ashes.