Page 7
Chapel of Unity & Pennies in the Floor
s you return toward the Great West Screen, you will pass on the way many extraordinary features - too numerous to give proper credit to in this brief resume. As well as a place of worship, this cathedral, like many others, is seen as a place in which to display religeous art - a contentious point among many members of the clergy.
One small feature worth noting is the line of pennies embedded into the floor. As you return down the north aisle you may notice these 1962 coins (the year of consecration) which are mostly now worn smooth. The purpose of these is to provide a straight line for the clergy and choir members to follow in a neat procession. The photo below taken by my wife, Bev, shows one of the coins still retaining some detail.... must have been slightly off the beaten track!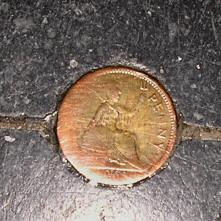 At the far end of the aisle, opposite the Baptistery Window is the Chapel of Unity, with its detailed mosaic floor (donated by the people of Sweden) representing the nations of the world and lit by shafts of light from the narrow stained glass windows around the circumference of the star shaped chapel.

This design was Basil Spence's vision of a chapel representing the star which began the story of Christ - from the outside it appears shaped similarly to a Crusader's tent.
The chapel is intended for prayer by all denominations, not just Anglican, and for this reason was purposely built with no view of the great altar. However, for the visitor to the cathedral this is more than compensated for by the striking view of the Baptistery Window on exiting the chapel.

On exiting this magnificent building, one can walk straight across, mount the steps and imagine oneself back in time over six hundred years to when the Old Cathedral was itself, still new.....