Page 2
Earliest photographs of Broadgate
This must be amongst the earliest photographs showing Broadgate, if not Coventry itself.

It was taken around 1860 by Joseph Wingrave (right) - only around a decade or two after the invention of the camera. Wingrave owned a chemist shop in High Street, and was responsible for virtually all of the oldest photos of Victorian Coventry.
This photo on the left was taken from the corner of High Street and Broadgate - to which the cobblestones on the right belong. The policeman wearing a top-hat there is facing into Hertford Street and the street running off into the distance is Smithford Street which was once half of Coventry's main east-west thoroughfare.

This hand-coloured postcard view below was taken from roughly the same position, and shows the same junction with more of Hertford Street visible. All who used this cross-roads, of course, were looked upon by Coventry's own legend; - Peeping Tom. The photo above shows him peeping out from the corner window of the Kings Head Inn, but at Christmas 1879 this new enlarged Kings Head Hotel opened - and Tom had a new, more upmarket home.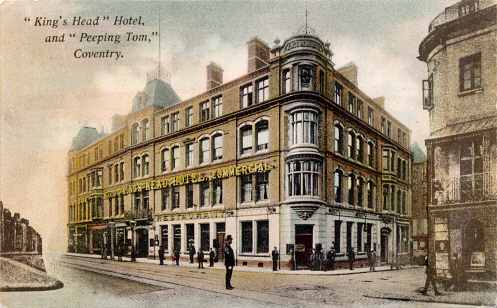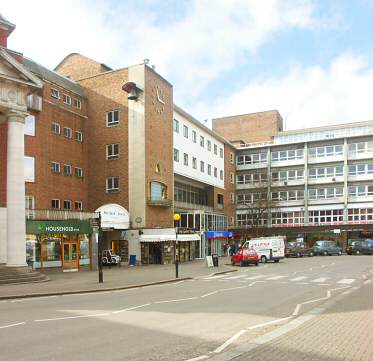 As part of the post-war redevelopment of Broadgate, Peeping Tom was still allowed to keep his place - in fact better than that - he became animated. Every hour on the hour, a model of Godiva makes an appearance below the clock, and Tom briefly peeps out of the window above.... and despite the warnings, he still hasn't gone blind!