The Lion Bicycle Company of Coventry & Wolverhampton 1877-1882, by Damien Kimberley
istoric research can often be quite dull and laborious when persevering with a particular mystery, but then when a discovery is eventually made it makes it all worthwhile. After researching the bicycle and motor trades in Coventry for the last 15 years or so, I'd like to think that I'm quite good at what I do - knowing most of the short-cuts and tricks of the trade, and never giving up until I've found what I'm looking for, or at least exhausted all avenues. Once in a while, however, I reach a dead end, and there's been one particular bicycle company that has, until quite recently, left me completely bewildered.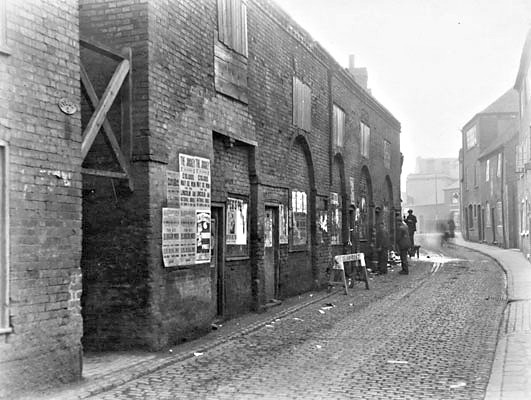 Leicester Street as it looked in 1926, just prior to demolition.
(Image courtesy of the
Coventry History Centre
.)
The mystery surrounded a business called the Lion Bicycle Company, thought to have existed at 48 Leicester Street, Coventry, around 1879. The following is what I was able to piece together:
The first record that I was able to discover concerning the Lion Bicycle Company was seen in the 1879 Bicyclist Handbook with the firm at Leicester Place, 48 Leicester Street, Coventry. The entry stated 'this company are working in the same premises that Singer [& Company] first occupied and are building on the lines of the 'Humber' [bicycle] and offering the 'Lion' no. 1, 2, and 3 ordinary machines'. The firm then seemingly disappeared, as two years later; the census showed that no. 48 Leicester Street was an 'unoccupied iron foundry'.
Earlier, in 1874, the local Coventry Trade Directory recorded that 48 Leicester Street was occupied by the German-born Frederick Richard (b. 1834) of Richard & Co. - ornamental art metal workers. The address appeared to consist of a modest industrial building incorporating a foundry, with the Richard family living in an adjoining building. By February 1875, Richard and kin had decided to move on, and the premises were advertised as vacant and to let. They were soon taken on by George Singer's bicycle company, until early 1877 when he sourced larger premises at Alma Street.
Interestingly, Ray Miller in his 2006 Encyclopaedia of Cycle Manufacturers listed a Coventry Lion Company at Bilston Street, Wolverhampton for 1882, offering 'Lion High Wheelers'. Then to further confuse things, in 1884, a Lion Cycle Company of Birmingham was seen to have exhibited at the Speedwell Club Bicycle & Tricycle Exhibition at the Bingley Hall. So, could the Lion Bicycle Company, Coventry Lion Company, and the Lion Cycle Company be one and the same?
It then became really interesting, as in 1890, the renowned bicycle historian Harry Hewitt Griffin released his book Cycling. In the early stages he inevitably talked about the development of the bicycle to the arrival of the 'dandy-horse' machine of c.1820. He then states 'it [the dandy-horse] seems to have dropped from memory, but interest was reawakened about 1879 by a bicycle maker in Coventry (trading as the Lion Bicycle Company and afterwards proprietor of the Chief Music Hall in Wolverhampton) publishing, on the back of his price list, a description of the machine.'

ow, in many ways I wish Griffin hadn't written this, or rather; couldn't he have given me the bicycle maker's name? Perhaps he had forgotten, or perhaps he had made a mistake? In any case, as a result of this lead I subsequently became something of an "authority" on Wolverhampton Music Halls and Theatres, but as much as I was able to short-list some 20-30 individuals who had been proprietors and lessees in Wolverhampton during the late 1870s to the early 1880s, I was unable to directly link a single one to both Coventry, and bicycle making.

Much of it all made sense though in many ways. Why would a bicycle maker be producing your standard high-wheelers in 1879, whilst simultaneously, making machines that died out years ago, unless purely for novelty purposes or for the stage? Whilst the all-theatre related Era newspaper was able to provide me with a number of Wolverhampton theatre and music hall proprietors of the period without any certainty, there were seen to be a number of "acts" advertised which clearly incorporated the riding of dandy-horse machines. Why the Lion Bicycle Company failed to advertise their machines in the Era during this period however became highly inconvenient for me.
The list of potential names I focused on included: William Hewitt, William Bennett, Charles Henry Bosworth, George Lyttletons Holyoake, George Holyoak, Thomas Birrell, William H. Jones, Joseph and Arthur Duckham, Charles Hearn, Edward Charles Yeates, Charles D. Barnard, Henry Colin Hazlewood, Ernest Henry Bull, James Rainbow, Harry S. Springate, George Goddard Whyatt, F. A. Scudamore, Lindo Courtney, Robert Arthur, Josiah Sowery, Joseph Shaw Tavenor Brewster and Austin Brereton.
The west side of Broadgate & Cross Cheaping, as it would've appeared in Birrell's time. (From
Coventry Past & Passing
.)
So, with a lead of sorts, the earliest electoral registers I could source in Coventry were 1877 onwards. These failed to mention 48 Leicester Street, but then they tended to cover households rather than actual properties. This indicated that whoever was behind the Lion Bicycle Company was not in residence there as the Richard Family did a few years earlier.
Much later in 1892, a Lion Cycle Company of Broad Street, Birmingham was registered as a limited company, with a Richard Green given as manager, and this was probably the same firm that had exhibited at Bingley Hall back in 1884. Green had lived in Coventry during the mid to late 1880s, but once again, I could find no connection with him to Wolverhampton, or Music Halls, which made any connection to the earlier Coventry and Wolverhampton firms doubtful.
So, at that point, that was just about all I knew, and I pretty much accepted defeat. However, in August 2013, whilst searching through the British Newspaper Archive, I made a massive breakthrough. My new lead was not totally conclusive, but it was by far and away the best one I had gathered. From the Birmingham Post of December 1882, it revealed:
With this new incredible lead, I focused all my attention to Birrell alone, casting all the others aside. Here was a bicycle maker and music hall proprietor. Would he have links to Coventry? Would this be the man that Griffin failed to mention? Here is what I discovered:
Thomas Birrell and the Lion Bicycle Company?
Birrell was born at Strathaven, Lanarkshire, Scotland, in 1827. He was a very difficult man to trace early on, but by the 1860s he was in Belfast, employed as a 'photographic artist' and residing with his Irish wife, Annie. By 1871 he was back in Scotland, at Hamilton - his occupation stated as being 'proprietor of the Diorama of Scotland', now with two young children in tow. The 'Royal Diorama of Scotland' was completed in Belfast in 1868, and consisted in a series of Scottish painted scenes of famours landmarks - the work of Thomas Dudgeon (1805-1880) and assisted by J. A. Keith. The Diorama made its debut at Victoria Hall, Belfast, then on to Wellington Hall, Liverpool. Although initially managed by C. E. Rainforth, by the following year the proprietors were stated as being Thomas Birrell and Alexander Lamb.
Over the next couple of years the Diorama travelled the British Isles far and wide, and by December 1874, it had reached the Corn Exchange, Coventry. To accompany the beautiful scenic views of Bonnie Scotland, Birrell had a variety of supporting acts in his troupe - one of which was a pretty Scottish singer called Grace Wyse, who took the stage name of Griselda Wess - the 'Scottish Nightingale'.
In April 1875 Birrell became the landlord of the Coventry Cross Inn in Cross Cheaping (highlighted).
For some unknown reason, Birrell then appears to have decided to take a break from touring, and instead chose to stay in Coventry, becoming landlord of the Coventry Cross Inn, situated at 29 Cross Cheaping, in April 1875. This new home was also the base of the Coventry Philanthropic Institution, and I believe Birrell was very much part of this group. Over the following couple of years, he himself, labelled the 'Jacobite Vocalist' along with the supporting 'Scottish Nightingale' performed at a number of local open air events in connection with the Coventry Philanthropists, as well as supplying the refreshments. As they worked closer and closer together, at some point Birrell and the much younger Griselda Wess became an item, and during this period, if not earlier, Birrell's wife Annie appears to have vacated, taking their two children with her.
y the mid 1870s the bicycle trade in Coventry had been progressively growing, both in terms of the number of firms existing in the City, but also by reputation. George Singer (1847-1909) was one of many early employees of the Coventry Machinists Company, the first firm in the country to begin making bicycles on a mass scale from the late 1860s. By 1875 he had begun a bicycle firm with his father-in-law at Leicester Street, but by January 1877, such was the demand for their 'Challenge' machines, that Singer vacated the premises to take over a factory on Alma Street, formerly occupied by his former bosses Wyatt & Roberts.

Lion bicycles price list from 1879. Although these prices might appear cheap by today's standards, the most expensive bicycle here - at £15 - would be the equivalent of £1,600 in 2016!
This is the exact point that I believe Thomas Birrell began the Lion Bicycle Company, taking over the Leicester Street factory whilst continuing his other roles as landlord of the Coventry Cross Inn, and performer. Why did Birrell chose the name 'Lion'? Was he a budding engineer or mechanic himself? Or did he simply employ experienced labour in his small factory? I don't know the answer to these questions, sadly, but what I do know is that both contemporary 'Ordinary' bicycles were being made alongside machines of the much older 'Dandy-Horse' variety by the Lion firm at around this time in Coventry.
By October 1877, Birrell was seen to have applied for planning permission to have a cart shed built to the rear of the Coventry Cross, but then just two months later, he had transferred the pub licence over to James Cole, and instead became 'refreshment licensee' of the Prince of Wales Theatre at Wolverhampton. This very quickly became a big stumbling block for me. I could now see for certain that Birrell had spent some two-and-a-half years living and working in Coventry, and that he had now relocated to Bilston Street, Wolverhampton. The problem was that if he left Coventry in late 1877, how could he be the one responsible for a bicycle firm said to be making 'Lion' bicycles and 'Dandy-Horse' machines there in 1879?
Even though Birrell had taken a clear interest in a Black Country Music Hall however, crucially, he did not manage the day-to-day running of the Prince of Wales. This he left to the existing manager Henry C. Hazlewood, then for a stint Alfred Roe, then George Goddard Wyatt from May 1879, and then Henry Springate. Therefore, it was not inconceivable that although he may have vacated Coventry on a residual level, he still retained a bicycle firm there, occupied or managed by a small workforce.
In late 1879, Birrell and Wess had a daughter together at Wolverhampton, naming her Margaret Griselda Birrell. By 1881, certainly any Lion Bicycle activity in Coventry must have ceased altogether, as 48 Leicester Street was seen to be unoccupied, and the firm did not appear anywhere else in the City. Meanwhile, Birrell was seen to be listed as a 53-year-old 'concert hall proprietor' living at 20 Tower Street, Wolverhampton. Although listed as his wife - they were not to officially marry until over two decades later - 29-year-old Griselda also showed up on the census at the same address, together with young Margaret.
Descriptions of Lion bicycles in 1879, including reviews.
Then, significantly, by 1882, a bicycle firm by the title of the 'Coventry Lion Company' was documented at Bilston Street, which just so happened to be on the same Street as Birrell's Prince of Wales theatre. In June of the same year, the Birmingham Daily Post then incredibly reported on a story entitled 'Thefts in the Bicycle Trade', whereby a 19-year-old fitter named Samuel Fox was charged with stealing bicycle parts from his employer Joseph Devey, and then selling them to a certain Henry Springate - who just so happened to be 'manager to Mr. T. Birrell, bicycle maker of Tower Street.'
This 1882 news report was something of a revelation, and proved beyond doubt that Birrell wasn't just a music hall proprietor; he was also a bicycle maker. The notification of his business failure in the same paper, later of the same year, substantiates this further, whilst also stating the address of his theatre - Bilston Street, and this street ran parallel to the back of Tower Street, where both Birrell and the 'Coventry Lion Company' were located. Shortly afterwards it was reported that Birrell had resigned his position as proprietor of the Prince of Wales, with his manager Springate taking over the reins.
The ultimate confirmation, however, of Birrell's link to the Lion Bicycle Company of Coventry was discovered in the Commercial Gazette of January 4th 1883 regarding his failings. Finally, tying everything together, it simply stated the all-important words: 'Thomas Birrell, bicycle manufacturer, the Coventry Lion Bicycle Works, Bilston Street, Wolverhampton.' If this wasn't proof, then I really didn't know what could better it, and so as far as I was concerned, my Lion Bicycle Company mystery had ended. It had been a long hard slog as far as my research had gone, but by sheer perseverance, I got there in the end. Thank God Birrell chose the 'Coventry Lion' name upon his relocation to Wolverhampton; otherwise, I'd probably still be scratching my head.
So, what then happened to our elusive Scot Thomas Birrell?
By February 1884, together with his troupe, Birrell was seen to be back on the road again with their 'Diorama of Scotland'. By 1891, Thomas Birrell, 'Diorama Proprietor', was seen to be residing at Lodge Street, Bristol, with Griselda, daughter Margaret, and sister-in-law Gemma Wyse. By 1897, Birrell and family had made it to Leamington-Spa where he was to reside for the remainder of his days. As long time partners for 30 years, in 1904 he married his 'Scottish Nightingale' - Thomas aged 76 and Griselda aged 57. Sadly, he died four years later. Griselda remained in Leamington as a boarding house keeper, and died there in 1922.
For further information on the bicycle trade in Coventry, please see my book Coventry's Bicycle Heritage, published in 2015.
Damien Kimberley, July 2016.