Edwin Brown, Victorian Animal Artist, by Stephen Catton
here are many Coventry people who have achieved great things but whose names are no longer known to the majority of people. One such example is Edwin Brown (born in 1814), who was a Victorian Animal Painter. Although he was born in Mancetter, near Atherstone, he spent most of his life in Coventry, living in Albion Street from the 1840s and ending his days here in 1891.

Stephen Catton is Edwin's great-great grandson, and has compiled some information about his extremely talented ancestor, which I am proud to share with you here.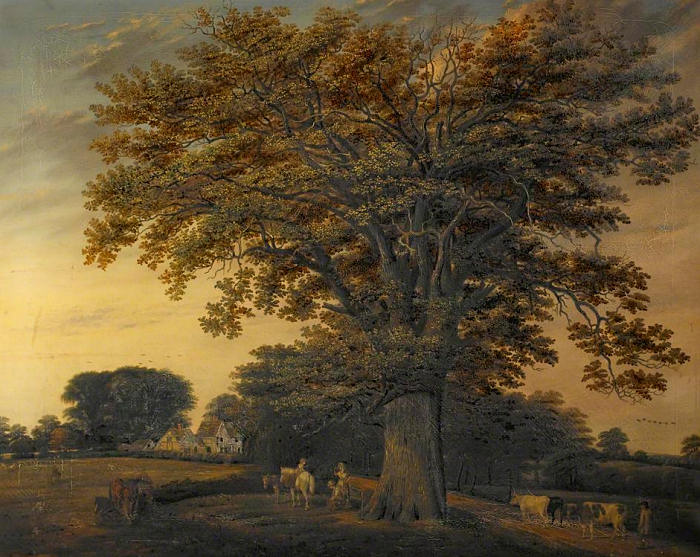 The Binley Oak, 1848. (Picture courtesy of
The Herbert
).
Stephen has managed to locate the position of this famous ancient tree, which happens to be marked on one of the maps I have on display on this page of
old map scans
. The tree would've stood approximately where the row of houses have been erected that are visible in this
Google Street View
and the two old houses in the background of this painting can also still be seen from this
Google Aerial View
.
Edwin Brown is often listed as E. Brown of Coventry or sometimes, mistakenly, as Edward Brown 1823-1877 in auction records. He worked mainly in the Coventry Area, painting Horses, Dogs, Farm Animals etc., also some landscapes, mostly signed E. Brown, Coventry.
He seems to have painted for many local families. Two of his paintings are in the Herbert Art Gallery: "The Binley Oak", 1848 (A local landmark according to an 1840s Ordnance Survey map, pictured above) and "Chestnut Hunter in a Landscape", 1867 (signed E. Brown, Coventry, and pictured below). Another of his paintings (as E. Brown) is in the Rugby Art Gallery & Museum, and is entitled "Mr. George Charles Benn & Mr. Anthony Staresmore Benn at the Kennels, Benn Fields, Warwickshire".
An 1848 Edwin Brown painting kindly submitted by a private owner.
Edwin Brown was baptised in Mancetter on 13th March 1814, the son of Robert and Elizabeth Brown (his father was listed as a builder in the 1832 electoral register). Edwin married Louisa Goddard in Leamington Spa on the 30th August 1838 - his occupation is listed as Artist.
He starts to appear in Coventry street and trade directories from 1841 as Professor and Teacher of Animal Painting, Artist and Animal Painter (in the Post Office Directory, also Kelly's & White's directories) until 1888, his address given as 24 Albion Street (The Butts) and Spon Street.
The Coventry Census Returns from 1851 to 1881 show him and his family living at 24 Albion Street (this was still the home of his daughter, Emma, in 1911). He died in Coventry in 1891.

He had six children, all born in Coventry:
Robert (1847). Moved to Birmingham area - Commercial Traveller.
Edwin (1848). Also an Artist - studied at Coventry School of Art, Ford Street (became Assistant Master - White's Directory 1874).
Alfred Goddard (1850). He moved to London about 1878, occupation - Costumier.
Louisa Anne (1852). Married John Linnett of Coventry. (He ran a Drapery Business at 49 Smithford Street.)
Frederick (1854).
Emma Jane (1855). School Mistress in Coventry.
I am honoured once again to be allowed to display below another of Edwin Brown's fine pieces of work, sent to me by Liz Colley, whose husband Stephen inherited it from his father, John Colley, who in turn was bequeathed it from his father, Arthur, born in England in the late 1800s.
While investigating the origins of the painting (see the signature on the left), Liz came across this webpage, and kindly wished that many others would be able to enjoy this beautiful picture. On behalf of anyone else who appreciates this, thank you Liz!

Many of his paintings have been sold by Auction Houses, etc. in recent years. However, their information on him is very limited and vague, often being sold as E. Brown of Coventry or as Edward Brown (1823-1877). The signatures on the latter where visible match these of Edwin Brown's in the Herbert Art Gallery! (I can find no record of an Edward Brown working as an artist in the Coventry Census Records or Trade Directories of this period, and several paintings are dated up to 1886 !)
There also seem to be nearly a hundred paintings listed in Auction Site Records - several being sold abroad (USA, France, Italy and Germany, etc.).
Once again, I am thoroughly grateful to another visitor to the site who has kindly allowed me to display her fine painting. Clare Ford bought it as a present for her parents in 1963 after coming across it in a little antique shop in Market Harborough, Leicestershire. Now, back in Clare's possession in Canada, she has had it professionally cleaned in Toronto. The original frame could not survive any further repairs, so Edwin Brown's horse and little dog now stand proudly in a new Italian made one.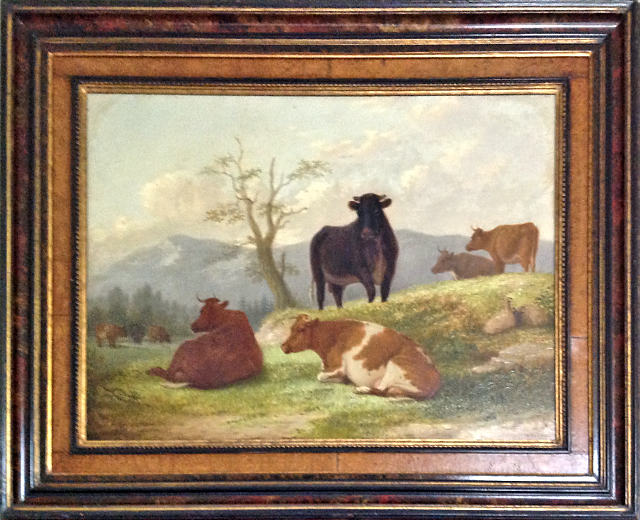 Yet again this artist's super pictures are turning up. My gratitude this time to B. Morel, living in Belgium, who purchased this painting from a gallery in 1985, and has allowed me to share with you all this peaceful landscape of ruminating cows and grazing sheep. Painted in 1881, it would've been among Edwin's later art-works. My sincere thanks for this.
I have been researching my family tree for about two years and knew from information passed down that an ancestor was called Edwin Brown who lived in Coventry and painted animal portraits for a living. Only one painting came down into the family - unfortunately this was sold in the 1920s - this was a copy he made of "Prince Rupert of the Rhine", probably after Lely (according to my Grandmother's description).
We hope you've enjoyed learning about one of our city's forgotten talents. If anyone has any more information about Edwin Brown, or maybe has one of his paintings, Stephen Catton or I would be very interested to hear more. You can contact me in the usual way if you have anything that you wish to share.