The Dragoon Cycle Company of Coventry, by Damien Kimberley
Grounded in Watchmaking, built upon Bicycles
Benjamin Wilkins, (1850-1920) watchmaker of Harnall Lane in ceremonial garb. Brett Dudley.
rom the late 1860s through to the 1960s, Coventry had been home to literally hundreds of cycle makers. Some became huge world famous firms such as Rudge, the Coventry Machinists, Singer and Triumph, while others came and went quite quickly, such as the Lion Bicycle Company (please see my previous coverage of this particular firm), and countless others. Reasons for success and failure in this field was attributed to a number of factors - largely capital and knowledge, yet a number of firms in the trade managed to last a good many years by way of using practical common sense - they were good at what they did, didn't take too many risks, nor did they really seek to expand too far beyond their comfort zone.
A fine example of this is the Dragoon Cycle Company. Heard of them? Most probably not, but you may be surprised to learn that they were in business for around forty years in Coventry, surviving (well sort of) two world wars in the process.
The origins of the firm apparently go back to 1895 (according to a later Dragoon Company letterhead of August 1937), when the Wilkins family established small works at Harnall Lane, the street where they then resided. The son of a Foleshill-born watch maker, Frank Wilkins (b. 1877) would have been the instigator, initially plying his trade as a watch maker before gaining some experience in the booming cycle industry. Younger brothers William (b. 1883) and George (b. 1885) also initially worked in the watch trade, before later joining Frank, first at Harnall Lane, but then at Stoney Stanton Road. As Wilkins & Co., it's thought that they began as cycle agents initially, but by 1905 they were certainly offering their own machines under the 'Peer Dragoon' label - presumably a name referring to the very best of military mounted cavalrymen.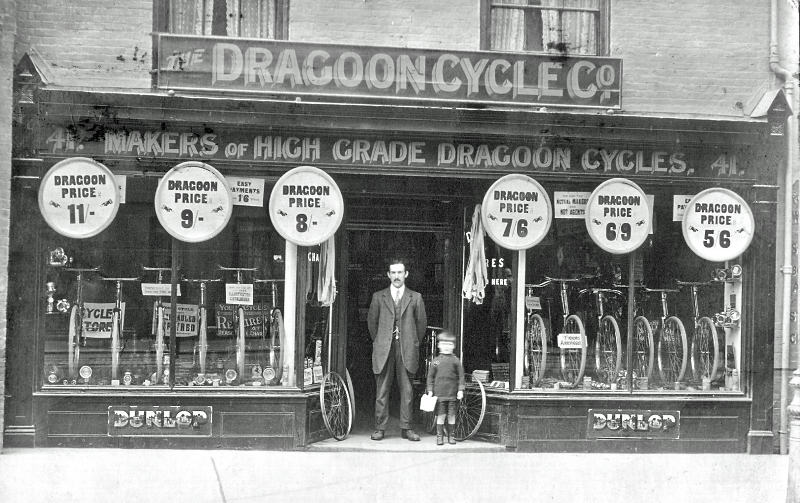 Alfred Walter Freeman stands outside what was the Worcestershire Depot at 41, The Tything, Worcester. The child may well be his son Alfie (b. 1912). Coventry Archives.
Dragoon Cycle Co. advert of 1912, as featured regularly in Austin's Monthly magazine up to 1940. Coventry Archives.
In 1907, Frank married local Foleshill typist Levina Greenway (b. 1883), and by 1909 they had their first child, Ethel. At around the same time the firm moved once more, this time to a shop and showrooms at 1 Jesson Street, changing the title of the firm to the Dragoon Cycle Co., selling cycles from £3. 10s with an impressive five-year guarantee! They advertised relentlessly throughout, mostly in trade notice columns of the local press, but also in carefully selected nationwide regional newspapers, largely in towns where they had set up agencies like Worcester, Cheltenham, Nottingham and Burton-on-Trent.
In 1913, Frank and Levina had twin girls Beryl and Margaret, whilst in the same year George tied the knot to 25-year-old Miss Emily Caulton, a Birmingham-born motor company invoice clerk of nearby Eagle Street.
The Wilkins family, mother Clara centre, William seated, and George top left. Brett Dudley.
On the advent of the Great War, the three brothers kept production going. Amid all the uncertainty, so far I've found little of the involvement that Frank, William and George had regarding service, yet there were a few pointers. In June 1916, middle brother William was subjected to a Military Tribunal - very common practice at the time to establish exactly who was fit and able for duty. During the hearing William was described as a 'cycle manufacturer and dealer' of a property called "Woodlands" on Earlsdon Avenue. He stated that the cycle business had begun in 1902 with three brothers, one of whom was 'medically unfit', and another who was 'working in a munition factory'. On review of this, it's my guess that it was Frank (at 39/40) that had been deemed the unfit one on account of being the eldest, which would have left new dad George (at 30/31) the one employed in munitions work.
Back to the tribunal, attention was called to the importance of the business from the financial standpoint. On behalf of the military authority it was contended that the Dragoon Cycle Company was not a business of national importance, and that it would not have to be closed if William went into the Army. It was suggested that a brother could take his place [in running the firm] if he did, and the Mayor said the Tribunal thought the appeal should be dismissed.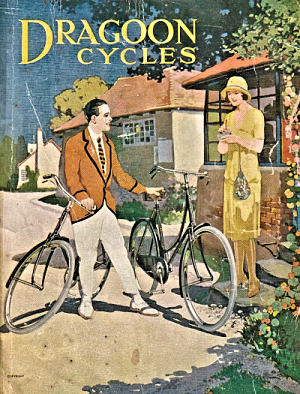 A front cover of a Dragoon Cycle Company brochure, about 1925. Coventry Archives.
By August 1918, Frank Wilkins, 41, a cycle dealer, who claimed exemption, stated that he was the last of three partners left to carry on the Dragoon Cycle Co. Mr. Allen, for the applicant, stated that Mr. Wilkins did all the repairs himself, and that two regional branches had had 'to be closed'. Four months exemption was granted on condition that applicant [Frank] helped in keeping together the businesses of others who have been or may be called to the Colours.
On reflection of the two tribunals, then William and George may well have seen some service, yet the fact that Armistice came about in November 1918, saw to it that Frank was certainly spared. In autumn 1919, William married a Miss Clara Turner (b. 1893) in Coventry, but sadly in January of 1920, the Wilkins brothers all suffered a heavy blow through the death of their father, Benjamin, at the age of 70. This loss, together with the emotional toil of the War years, resulted in Frank, William, their wives and children all relocating to Paignton in Devon, yet still remained as Directors of the Dragoon Cycle Company.
Dragoon advert of 1927, showing the factory at 177 Foleshill Road, and the depot at Earl Street. Coventry Archives.
George, the youngest of the three, remained in Coventry to oversee the business, and was soon joined by Brother-in-Law Alfred Walter Freeman (b 1884), who had managed the Worcester depot before the War. By the early 1920s, they added a shop at Earl Street, a more central location - right next door to the historic Palace Yard. This new store was to be managed by George Wilkins, while Freeman looked after and would reside above the Jesson Street premises.

Regarding an actual workforce, it's impossible to say just how many hands worked for the firm, but in 1927 they saw an opportunity and expanded a little further when the elastic web makers Dubock, Jones & Co., vacated 177 Foleshill Road. An interesting building architecturally, it's also worthy of note that Dragoon's new 'factory' was once home to Warman & Hazlewood, makers of 'Coventry Cross' cycles way back in the 1890s.
Into the 1930s the business trundled on, now occupying manufacturing premises at Foleshill Road, two showrooms at Earl Street and Jesson Street, and at least three regional branches remaining at Birmingham, Cheltenham, and Worcester. Looking to wind the business down somewhat, it's thought that the Cheltenham shop eventually lasted until 1936, as did the factory on the Foleshill Road, but in the same year George Wilkins briefly took on additional premises in Clarendon Street, Earlsdon - much closer to his home on the Kenilworth Road.

On the night of November 14th 1940 however, the business was about to come to an abrupt end when both the Jesson Street and Earl Street shops were completely destroyed in what was Coventry's biggest raid. The Luftwaffe also obliterated a number of hugely significant historical premises in the city on the same night, including Judges' Court, and Old Palace Yard - the 16th Century property that stood to the right of Dragoon. Shortly afterwards a brief announcement from the company appeared in the Midland Daily Telegraph which read: 'The Dragoon Cycle Co. Ltd., (late 39 Earl Street and 1 Jesson Street) ask all their customers to please send their payments to a temporary new address at 39 Kenilworth Road, Coventry.'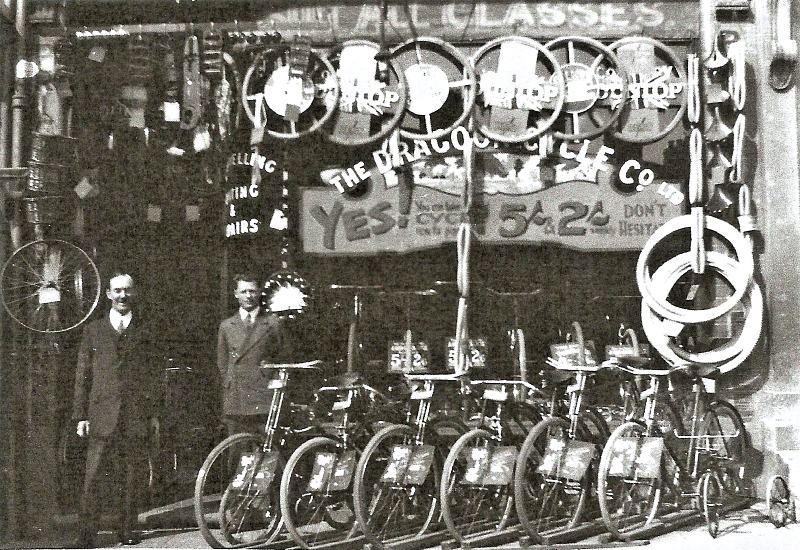 C. 1930, most probably the Jesson Street premises. Freeman (left) stands with Jim Ellis. Brett Dudley.
Alf Freeman stands with bike in a yard, most probably the rear of Jesson Street. Brett Dudley.
At this time, the business had already scaled down, George Wilkins was in his mid-50s and the two other partners lived nearly 200 miles away on the South Coast. The War had only just begun, so was now the time to rebuild? Understandably, the answer was no, and ultimately, that was the end of the Dragoon Cycle Company. Or was it?
Well yes, but in 1945, brother-in-law Alfred Walter Freeman continued the legacy, starting up at 277 Stoney Stanton Road as the Jesson Cycle Company - a tribute no doubt to his former home and Dragoon Cycle Shop at Jesson Street. Frank Wilkins died at Paignton two years later aged 70 leaving over £14,000 and several properties in his will. Youngest brother George died in Coventry in 1955, also aged 70, at his home "The Gables" on Kenilworth Road. The Jesson Cycle Company fizzled out the same year, and Alf Freeman died two years later. William S. B. Wilkins made it to an incredible 95 years of age, passing away in Paignton in 1978.
So there we have it, the Dragoon Cycle Company Limited (1895, or 1902-1940) of Coventry. Overall it appeared to be a moderately successful business, and was seemingly a good decision to move away from the declining watch trade. The biggest mystery however would appear to be why two of the brothers relocated so far away from Coventry to Paignton following WW1. Did they have existing family there? Were they regular holiday goers? What did Frank and William do for a main occupation whilst living there?
We may never discover the exact answers, but for those interested, Coventry Transport Museum has a very rare c.1920 Dragoon bicycle on display and is well worth a look. I would also like to thank Brett Dudley, great grandson of Alfred Walter Freeman, for supplying some of the images used in this article.

Damien Kimberley, March 2019.