The Arno Motor Company of Coventry 1908-1916, by Damien Kimberley
o add to the previous research frustrations hopefully demonstrated within my Lion Bicycle Company article, permit me to continue the problems encountered, this time with a later Coventry motor firm. Unlike Thomas Birrell's Lion company however, on this occasion, I've yet to completely prove who the mastermind behind it was, but do offer you my very best candidate and give the reasons why.

The only advert I was able to find for the Arno Motor Co., as seen in the 1911/12 Coventry Directory.
The firm in question is the Arno Motor Company, reported by some (including me, based on other reports) to have been turning out motor-bicycles in Coventry from 1906. I've not flicked through the pages of every motoring magazine title from 1906 onwards, but the very first reliable notification I have found for the firm was in the 8th of February 1908 edition of the Automotor Journal, under 'new companies registered' indeed shows the Arno Motor Co. Ltd., with a working capital of £2,000 in £1 shares. In the Kelly's 1908 Directory of Warwickshire, Arno appears again, listed as 'motor car manufacturers' at Dale Street, Coventry. To support all this further, Arno were listed for the first time as new members of the Coventry Chamber of Commerce.
Keen to make their mark quickly perhaps, by November 1908, the Arno Motor Company exhibited both a motor-bicycle and car at the Stanley Show in London - historically a bicycle show that had steadily incorporated motors. Fitted with a Coventry built 20-25hp White & Poppe four-cylinder engine, the car was a large one at the 'remarkably low figure of £325', whilst the motor-bicycle had a 3hp vertical engine of belt drive. By this time the firm had moved from Dale Street, to presumably larger more adequate works at Gosford Street.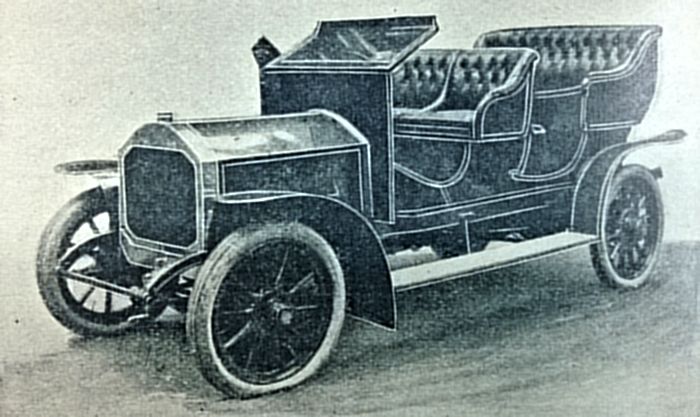 The 'Arno' 20-25hp motor car, as exhibited at the 1908 Stanley Show.
Into 1909, any car building activity appears to have lessened, but the firm continued motorcycle output with a 3.5hp machine priced at £45. By 1911 they were listed locally as both car and motorcycle manufacturers at Court 33, 85-87 Gosford Street, sharing the court with the Titan Motor Wheel Company, as well as several residents. In 1911 they exhibited several motorcycles at Olympia including a good looking road racer called the T. T., and repeated the show the following year, but by December 1912 the firm was in trouble, with notification in the London Gazette of Arno being wound up. Soon after, the factory at Gosford Street was leased to another motorcycle maker - William Montgomery. Later in 1915 the premises were taken up by the French firm Hotchkiss & Co., first making munitions and later car engines. So, with the company seemingly liquidated and the factory gone, that would be the end of the Arno Motor Company, right? Not quite. Out of the blue in May 1913, the firm was back, this time at 'new works' at Lamb Street, turning out 'a new model [motorcycle] for sidecar work'.
Court 33, 85-87 Gosford Street around 1905. By late 1908, the rear yard of this building would be home to the Arno Motor Co. Ltd.
No sooner had they got going again, they were back in trouble, the London Gazette once more with notification of the firm being wound up in September 1913. However, by November 1914 the Coventry Chamber of Commerce listed them as 'new members' once more, at an address at Hill Cross (probably still Lamb Street), and by June 1915 the Automobile Engineer magazine listed the Arno Motor Company as one of a number of Coventry firms to be engaged in the manufacture of war materials. The Chamber of Commerce listed the firm again for 1916, but the following year they did not feature, in fact they were never heard of anywhere again.
So, who was behind this low-profile motor firm? Usually, a company name is either made up of a person or person's surname, or a chosen name that promotes positivity and strength such as Triumph, Excelsior, Centaur, Rex etc. In the case of 'Arno' it's a rather unusual choice - the name of the main river running through Florence, Italy? As a surname, Arno does exist yet there were no individuals going by this name in Coventry during the firm's existence. Otherwise, Arno is, or was, a popular German first name, apparently meaning 'as strong as an eagle'.
On discovering the latter, my attention was immediately drawn to one individual alone, a man who was seen to be living in Coventry before and during the Arno Motor Company's known tenure - a German going by the name of Arno Sthamer. Here's what I was able to find out about him.

rno Sthamer was born in Saxony, Germany in 1868, son of the merchant Frederick Theodore Sthamer. Sthamer arrived in England at the age of 20, and by 1891 was seen to be lodging at a boarding house in Ormskirk, Lancashire, working as a 'cotton broker agent'. The following year he married 24 year old Louise Turner at Salford, and by 1893 the newly-weds had moved to Leicester. The following year he became a British Citizen, the same year that they had their first child, a daughter, Wilhelmina. Residing at 10 New Walk, and even owning a Dachshund called 'Fritz', Sthamer had his own business with a shop at Halford Street, trading as a 'wholesale and retail tobacco and cigar dealer'. Sadly, the business went bust in 1896, and by 1899, the family had moved to Little Heath, Foleshill, Coventry - a second daughter came soon after, Ivy.

By 1901, Sthamer was seen to be employed as a 'cycle works clerk' in the census, with Coventry still having a major thriving bicycle trade, and growing motor trade. In 1905, Arno and wife Louise were known to have applied for the job of 'master and matron' of the Meriden Board of Guardians, but they were not shortlisted. He was next seen as a member of Singers [bicycle and motor co] Cricket Club in 1907, indicating that he had probably worked in the cycle trade since his coming to Coventry. Arno and Louise had their final child, Clifford, also in 1907.
So, here's my theory:
In July 1907, a Coventry motor firm going by the title of Climax Motors Ltd, ceased to trade. It had started less than two years earlier, through a four-way consortium, one of whom was Siegfried Bettmann, the German born co-founder of Triumph bicycles and motorcycles. Climax initially bought rights and assembled copies of Belgian Minerva cars in Coventry, but as so few orders were taken, instead made cars using British components, and powered by Coventry made White & Poppe engines. Ultimately, having lost more money than they made, the company closed. When the Arno Motor Co began in February 1908, their first address was given as Dale Street, which just so happened to back on to Siegfried Bettmann's huge Triumph Cycle Works. Records show that also in 1908, Triumph acquired another factory at Dale Street, following the Coventry Chain Company's removal to Spon End. With such a small German presence in Coventry during the early 1900s, I'm certain that Siegfried Bettmann and Arno Sthamer would have been known to one another, as would Triumph's other co-founder Mauritz Schulte, and in fact practically every other German in Coventry of a certain social standing. So, could the fact that the Arno Motor Co started out at Dale Street, be a case of Bettmann and Schulte helping out a fellow German? The first car released by the Arno Motor Company in 1908 was powered by a White & Poppe engine, the same engines that Climax Motors used. Could it be that Arno cars were simply a continuation of left over Climax cars?
By the end of 1908 however, the Arno Motor Company had relocated to Gosford Street. Interestingly though, on their departure another firm moved into Dale Street from London. Known as the Motor Radiator Company, interestingly, one of their owners was a German, called Hans Zimmermann. Would this be a case of Bettmann and Schulte helping out another fellow German?
In 1915 the site was taken over by the French munitions manufacturers Hotchkiss. After the war they made car engines, later becoming Morris Engines.
ack to Arno Sthamer. The next we see of Sthamer is on the 1911 census, listed as a 43 year old from Germany living at Little Heath, Foleshill Road, with wife and children. Significantly though, his occupation reads 'commercial clerk (Foreign correspondent) in the cycle and motor trade. This to me, would indicate that Sthamer was employed rather than an employer, and possibly for Triumph, dealing with Foreign trade - but could Sthamer still be connected to the Arno Motor Co, perhaps in a low-key partnership with Bettmann, Schulte and others? Could it be that the firm was overseen by Sthamer, but employed a small skilled unknown workforce?

For 1912 and 1913 Sthamer is continued to be listed as 'Foreign correspondent' at Little Heath in the resident directories, but then sadly, in 1913 Arno's wife Louise died aged just 45. I cannot trace any record of her death in the papers, but could the first winding up of the Arno Motor Company in December 1912 have any bearing on the illness and eventual death of his young wife a few months later?
As I have stated the firm reappeared in May 1913 at Lamb Street, but by September it was wound up again, with Theodore David Neal, a chartered accountant of Kings Norton being appointed as liquidator. In January 1914, Arno Sthamer was seen to have attended a 'Conservative and Unionist' meeting at the Three Horseshoes Inn, Little Heath. A few weeks later, he married again to a Miss Ruby Leatt at Kings Norton, which by coincidence or not, was where Theodore Neal resided.
Now, being of German origin and living in Britain when War breaks out against your former homeland is an uncomfortable position to find yourself in, but that was the case for a small number of Coventry residents - none more so high-profile than Siegfried Bettmann, who was actually Mayor of Coventry at the outbreak of War in August 1914. Sthamer must have also found the times particularly difficult, as by September 1914, he had officially changed his name from Arno Sthamer to Arnold Starmer, signed by the witness W. H. Carson. Clearly being close friends and/or colleagues to have demonstrated an act of such support, Carson was the owner of both the Coventry firms Bayliss, Thomas and Company, and the Excelsior Motor Company, which he had acquired in 1906. Also in September 1914, Sthamer (or Starmer) submitted a heartfelt letter to the Midland Daily Telegraph, completely denouncing any allegiance to the country of his birth. It may again be coincidental, but just a few weeks later the Coventry Chamber of Commerce relisted the 'Arno Motor Co. Ltd., motor cycle manufacturers of Hill Cross' as being 'new members', proving that both company and Sthamer were still in the same town at the same time.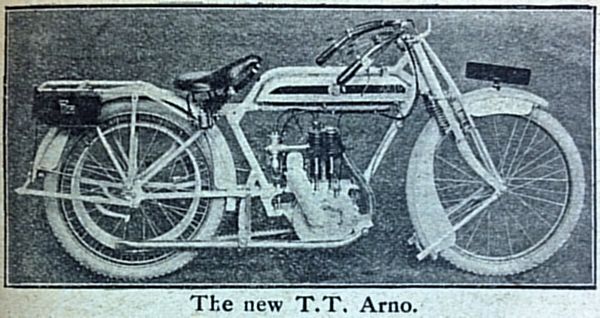 The firm made motor cycles above anything else; this is a 1912 TT model.
Into 1915, whilst the Foleshill cycle and motorcycle agents Swift & Co., were seen to be offering "All-Red" Arno' 3.5 motorcycles, Starmer was seen to have written another letter from his home at 124 Little Heath Road, this time to the Daily Mail, again not holding back at his general dislike for the German race. And whilst it appears that all activity of the Arno Motor Company vanished sometime during 1916, Arnold Starmer did crop up publically one final time in Coventry, attending a prize giving event for the Coventry Bowling Club in October 1918. Interestingly, in the 1919/20 Spennell's Coventry Directory for Foleshill, Ruby Sthamer appeared listed at 124 Little Heath Road, but her husband did not, probably suggesting he was working away. Arno did reappear at the address in the 1921 directory however and is last seen there in 1924 - by 1926 he, and seemingly the address are gone!
It must have been at this point that the Sthamer's relocated to Wolverhampton where Arno became employed at the Villiers Engine Company. He died there in 1938, and shortly afterwards, Ruby was seen to have moved into the home of Frank Howard Farren and his wife as 'companion'. Farren had spent time in Coventry himself in the early 1900s as manager of the Palmer Tyre Company, switched to Villiers, and eventually became managing director. To discover that Ruby Sthamer is staying with the Farren's by 1939 would indicate to me that Sthamer had held a senior position at Villiers, and may help support the fact he was of an engineering background.
So there we have it, the Arno Motor Company Limited of Coventry 1908-1916, and Arno Sthamer of Germany, Lancashire, Leicester, Coventry and Wolverhampton 1868-1938. Were the two connected? I'm still not certain, but he certainly remains my prime suspect.
For further information on the motor trade in Coventry, please see my books Coventry's Motorcycle Heritage and Coventry's Motorcar Heritage, published in 2009 and 2012 respectively.
Damien Kimberley, September 2016.