Sherbourne Viaduct near Charterhouse
However, an eagle-eyed visitor to this website, Peterson Cobbett, recognised that the arches are a much better match for the viaduct near the old Charterhouse monastery. Indeed, the main arch in the Spon End viaduct is not flanked by three very narrow arches as in the original engraving. I had never been certain if the viaduct had been rebuilt at some stage, but while looking at a map I suddenly realised one other important feature that made Peterson's theory more certain.... the direction of the spires. If the old picture had been drawn at Spon End, then the spires should have been out of picture to the right, whereas they happen to be in the perfect position if we were looking at the Charterhouse viaduct. Now, of course, we need to re-caption the old picture "The Sherbourne Viaduct, near Coventry, and Bridge over the LONDON Road."!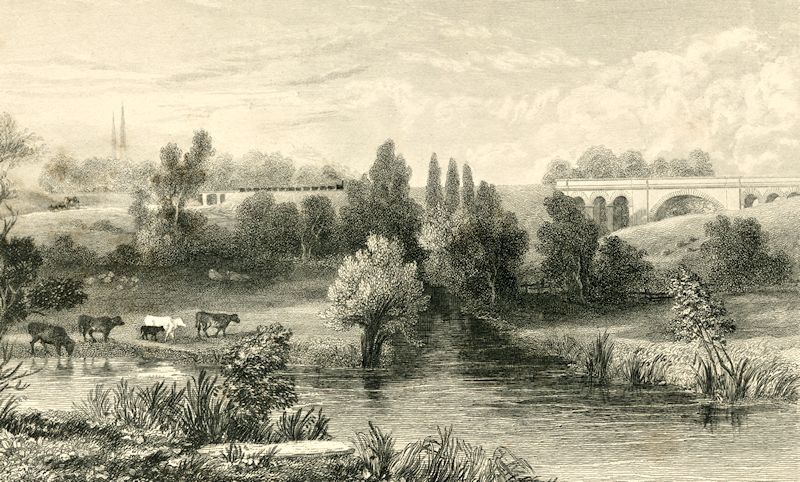 Accessing the same scene in 2015, however, is a little more troublesome than walking along an industrial estate, although much more gratifying! The course of The Sherbourne can easily be followed on foot eastwards across the playing fields by the Charterhouse and Blue Coat School, then under the viaduct itself. It is a bit of a scramble, though, to get farther around the river to the position where I took the photo, which ends up at the far east corner of Whitley Tip. Unfortunately it is no longer possible to see the viaduct from the exact position where the 19th century artist created his picture, but the area is still one of relative rural tranquility despite its proximity to the recycling centre!
My thanks go to Peterson for his help with this.