Page 5
What Remains of St. Mary's today?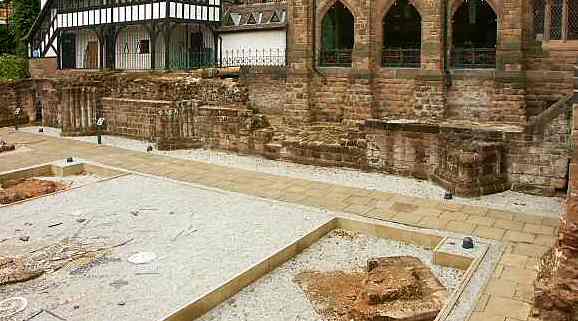 The first photo shows the quite substantial remains of the inside of the great west front. The main door would have been in the centre and leading down from this entrance towards the nave was once a large arc of stairs reaching across from the north to the south arcade of pillars, the first pair of bases of which can be seen in the photo. Evidence for the semicircular steps was excavated during the Phoenix Initiative and a pattern of floor tiles that once surrounded them was also revealed.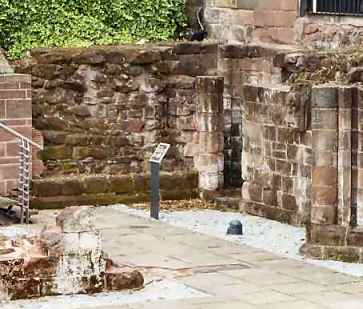 The far left corner is occupied by the south west tower which can be seen in more detail here on the left. The bottom of a spiral staircase in the tower is still evident, now aimlessly climbing towards Lychgate Cottages behind. In the background on the right is the former Blue Coat School.
On the right is a view of the central section of the nave and a substantial length of the south wall of the building. (See the plan view on the previous page.)
This forms the main focus of the site for visitors and is now known as Priory Garden.
Behind the far wall is the Visitor Centre which is pictured on the right below. This houses hundreds of excavated relics found on the site, the true gem of which is a superbly preserved fragment of wall painting from a "blind arcade" showing a scene from the Apocalypse.
The Visitor Centre has been built upon the southern part of what was originally the cloister; a square area between the outer buildings and the church within which the monks could get some peace and tranquility. This place is now a quiet walled off garden for visitors to rest in the same way.
Below can be seen the only currently visible remains of any part of the east end of the cathedral. In the background of this photo can be seen a segment of the "zig-zag" west wall of the New Cathedral.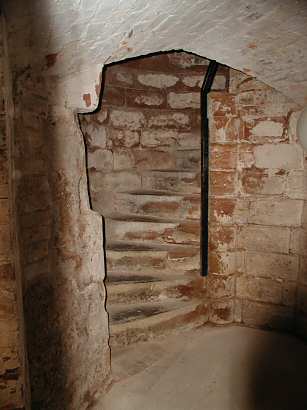 These next two photographs are of the space below the north west tower.
Like the south west tower, there is also the lower portion of a spiral staircase here and the base of one the giant supporting pillars can also be seen.