Page 5
Cook Street (Tower) Gate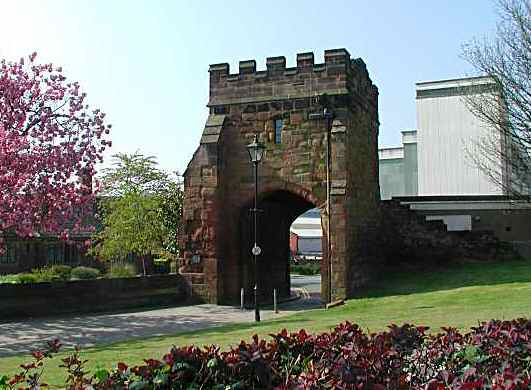 he plaque affixed to the gate informs us that it was built around 1385, and presented to the city by Col. W. F. Wyley in 1913 prior to its first restoration five years later.
The next two images compare a long lost view of Coventry with the current scene. In both pictures you can clearly see the door in the side of the gatehouse, which would have given access to the top of the city wall, which was evidently in ruin even back in 1805, which was around the time this atmospheric engraving was made.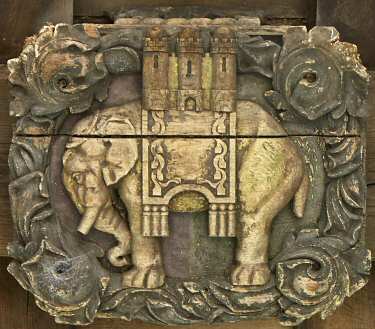 If you look upwards as you walk through the gate, you can still see a beautiful wooden carving of the Coventry emblem, the Elephant and Castle, inside the roof.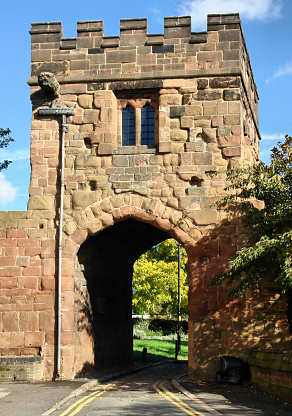 Also, looking at the top of both of these gates, you may notice that the battlements have been added in recent times. This was done around 1931-32 when a second session of restoration took place and the gardens were built. Photographs from 1910 show Cook Street gate with a flat open top, whilst Swanswell gate had a sloping "house-like" roof where it had been used, firstly as a cottage, and then a shop in the 1800s. If you wish to see how Cook Street gate looked in 1910, please take a look at the "Now and Then" section.
After passing through Cook Street Gate, you can re-enter Lady Herbert's Garden from Chauntry Place, and be greeted by this view of the City Wall....
After exiting the garden by Millennium Place, continue to the right, past the Transport Museum and along Hales Street, until you arrive at the Old Grammar School. If you turn right here into Bishop Street, and walk to the far end of the road you will be at the original site of...